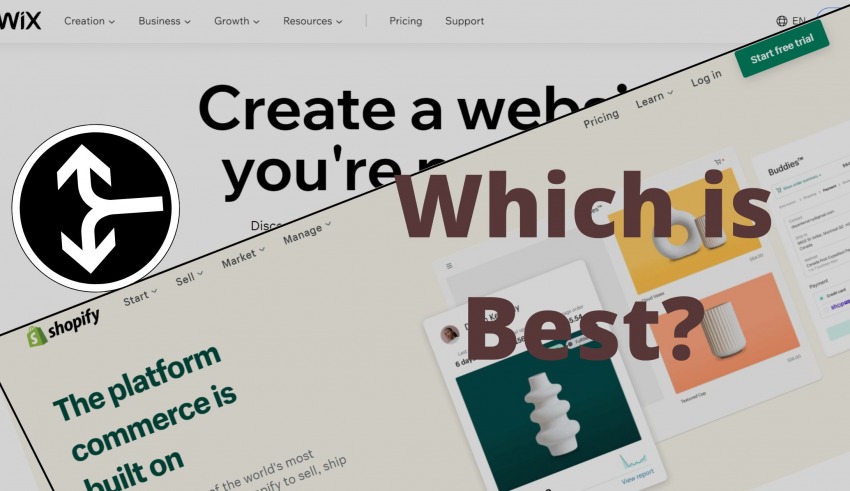 Whether you have finally decided to get your business into the online realm or are thinking of upgrading an existing one, the most crucial aspect you should prioritize is which platform is better for eCommerce? And while there are choices at hand, Shopify and Wix seem to emerge often as the best e-commerce site for every need.
Apparently, deciding on the Shopify vs Wix duel is tough as they seem to offer a similar bunch of features, but both are designed to serve different niches in particular. While Shopify was primarily built to host online stores, Wix entertained content-based sites more than selling stores from the very beginning.
Hence theoretically, Shopify has an immediate advantage over Wix with regard to e-commerce functions, as online selling is what it was basically made for. But this doesn't make Wix inferior. In fact, Wix has been seen going through multiple advances to make up for the difference. 
Hence, don't jump to conclusions until you get to the end of the post. Here's everything on how Wix and Shopify differ and which one of them is suitable enough for being your companion in the eCommerce world.   
Pricing 
In the pricing due, Wix has undoubtedly achieved more ground. With prices starting from just $28 per month, Wix is cheaper and offers good value for money from the very start. Also, the platform provides a free domain for the whole first year if you choose its annual plan. 
Though Shopify's beginner plan is just a dollar heftier than Wix, the platform's extra fees make it less favorable. However, whatever plan you choose, a good thing about Wix and Shopify is that neither will show adverts on your store and also allow you to let you sell innumerable products.
Overall, Wix packs more excellent value for money than the opponent Shopify. The more full-fledged of a store you prefer, the more Shopify will attract you – but Wix also provides plenty of scalabilities that too at less cost without holding back major eCommerce features.
Product and Inventory Features
For an eCommerce source, the sector you will most probably be in touch with is the selling center that is directly linked to the efficiency of the website builder you choose. Since we are talking about the Wix Vs Shopify duel, let's get straight to the fact that Shopify is a little more powerful than Wix. 
Product and inventory features are the areas where Shopify flexes the most, and it's somewhat true as well. The platform has a much more structured range of selling features than Wix. Shopify's inventory management is also a lot more self-sufficient. 
Though not equally good, Wix isn't that far behind either. You'll still get an impressive range of eCommerce features to work with. It includes precisely everything that you need for selling online, but only Shopify can help with a ton of selling and complex setups. 
Ease Of Use 
If you manage an online business, time might seem more valuable than money. The more straightforward your website builder/manager is, the easier it is to build and oversee your store. Plus, the time you saved can be later utilized to induce site attractions for new customers! 
Though Shopify flexes more muscle in the eCommerce realm and sure us one mighty contender, this sometimes works against it. In contrast to Wix, Shopify's editor isn't very intuitive, and users need to frequently hop from the front to the back and vice versa for even the tiniest modification.  
On the other hand, Wix allows users to do everything from one convenient place. Meaning you can get your store up and running after a series of simple drag and drop tasks. Though you might not get the same eCommerce tools as with Shopify, using Wix, you will get much less of a headache.
Marketing Abilities  
It would not be wrong if we call Wix a clever player in the market of marketing. Thanks to Wix Ascend, the platform's all-in-one marketing solution, Wix users can manage their marketing campaigns easily from one place. All they need is a cheap subscription to the Ascend add-on.
On the other hand, Shopify relies heavily on third-party apps for marketing. For some people, this means tons of flexibility but others mostly admire the idea of governing everything from just one area and avoid the hassle. 
Hence, it's no surprise that Wix wins the marketing features round. Though it's very close, in our opinion, Wix offers more than Shopify, and perhaps it's the way most eCommerce owners like it.
Payment Gateways and Shipping Options 
Shopify allows users to access over 100 different payment gateways but demands transaction fees for all – unless users continue with its own gateway, "Shopify Payments." Wix doesn't require such a fee and supports all the traditional payment options, including Square but doesn't work with any digital wallet payments. 
Despite a hefty transaction fee, Shopify beats Wix. This is mainly because of the sheer number of payment options it offers. However, we would like Shopify to work on its transaction charges policy and include Square in its list of gateways. 
From syncing up with alternative shipping providers to offering free shipping, Shopify is wholehearted in providing more than enough shipping features. Shopify will never leave any user stranded with the shipping dilemma with friendly options like curbside pickup and local delivery.
Wix also has many offers like tracking, taxing, and dropshipping features, but you'll still need apps to help with global shipping payments. 
Shopify Vs Wix: Which is Better for Ecommerce?
From designing convenience to what nifty add ons each of these platforms offers, this was all about how Wix and Shopify compete in the world of eCommerce. To conclude, both are good online selling platforms on their own but especially best for different categories of people. 
For virtual sellers who wish to launch a more "general-purpose" site because of a limited budget, ease of use, wide range of templates, and a more manageable marketing procedure, Wix is more suitable. However, in order to induce all the complex eCommerce capabilities, Shopify is the right choice. 
This is because Shopify has a less intuitive yet pro-business setup, responsive designs, multi-currency selling features, and plenty of integrations with other major apps. For those online merchants who want to build a full-fledged, professional online store, Shopify is for them.