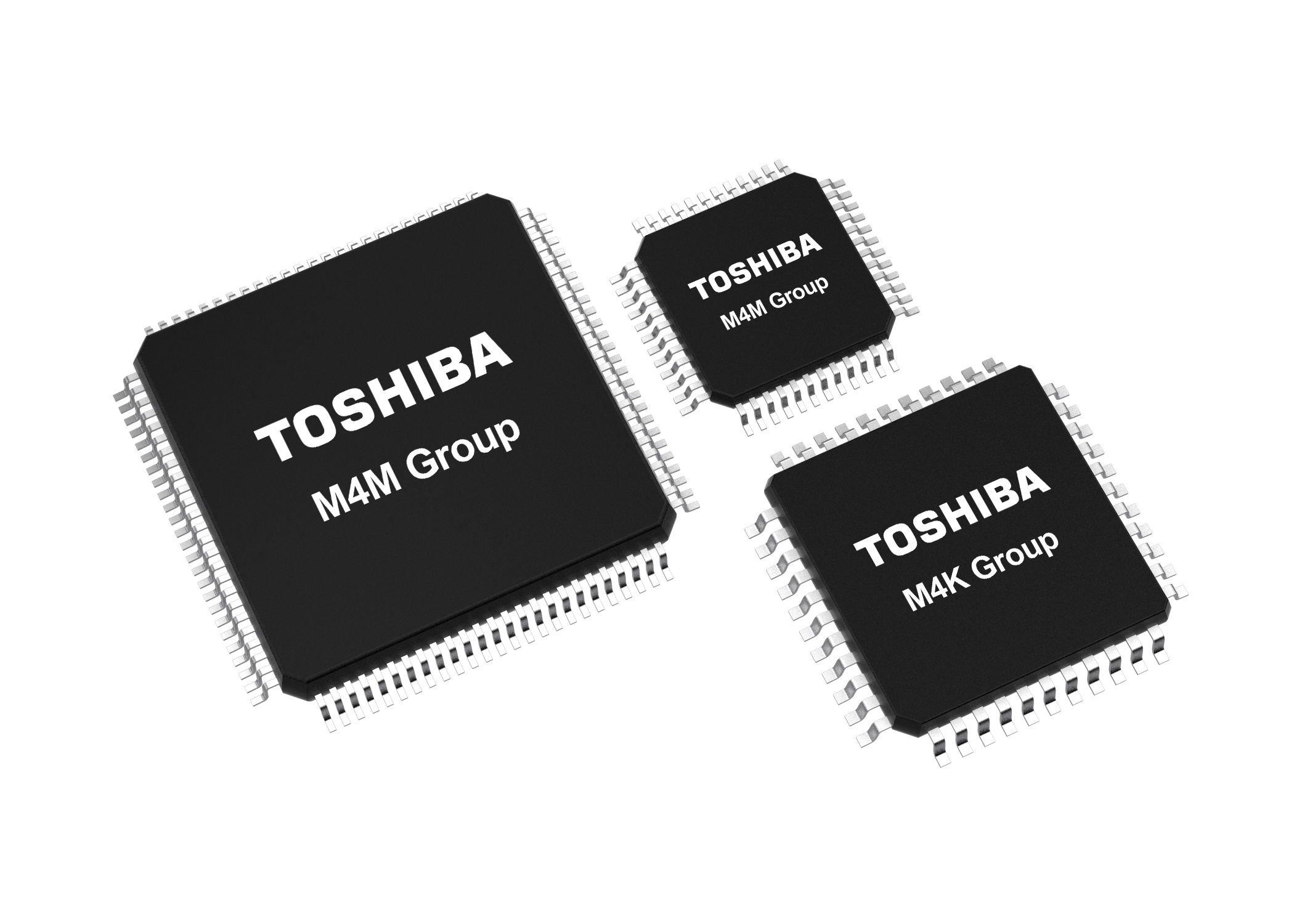 Toshiba is in mass production of 12 new motor control MCUs in their M4K group of devices. These will be the first products in the TXZ+ family.
Additionally, Toshiba announced that they have started mass production of a further 10 motor control MCUs in their M4M group this month. All of the new devices will be manufactured in a 40nm process, and form part of Toshiba's TXZ4A+ series.
All of the products announced are based upon an ARM Cortex-M4 core with floating-point unit (FPU) and memory protection unit (MPU), running at speeds up to 160MHz.
The devices integrate an advance-programmable motor driver (A-PMD), 32-bit advanced encoder (A-ENC), an advanced vector engine plus (A-VE+) and a maximum of three channels of high-speed and high-resolution 12-bit analog/digital converters.
As a result, these devices are ideally suited for field-oriented control (FOC) of up to three AC motors, brushless DC (BLDC) motors and multiple types of inverter control such as variable frequency drives or servo drives.
The MCUs have onboard flash memory for code (128kB/256kB) and 32kB for data as well as a further 24kB of general RAM along with a DMA controller (DMAC). A total of six 32-bit timers are included, which can be operated as 12 16-bit timers if desired.
The analogue section has a 12-bit AD converter (ADC) with up to 22 input channels as well as three op-amp channels.
Devices in the M4K group incorporate multi-channel UART, SPI and I2C interfaces for general communication, and the M4M group also has a CAN communication interface.
Both groups have self-diagnosis functions for ROM, RAM, ADC and clock, which allow designers to achieve functional safety certification to IEC60730 Class B.
All of the new motor control MCUs offer sophisticated functionality while achieving low current consumption and maintaining excellent backwards compatibility with the existing TXZ™ M4K(2) products.
The products are packaged in a range of fine pitch surface mount LQFP packages with up to 100 pins, offering footprints as small as 10mm x 10mm.
Comprehensive documentation, sample software with examples of actual usage, evaluation boards and driver software with control interfaces for each peripheral are provided with every device shipped.
Also, a development environment is provided to support the design and development process in cooperation with global ecosystem partners.
For more information, visit:
https://toshiba.semicon-storage.com/eu/semiconductor/product/microcontrollers/txz4aplus-series.html