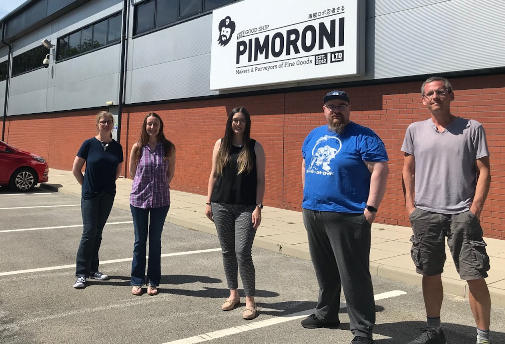 The company, founded in 2012, supplies 2,500 educational, industrial and hobbyist products through over 100 distributors worldwide.
It has £6m turnover and 40 staff, and has brought all its operations under one roof with a 10-year lease in a 26,000ft2 HQ on Parkway Drive.
"We had been looking for a big enough building in Sheffield city centre and bring our whole manufacturing, packing and shipping crew under one roof. We couldn't have asked for a better place," said Pimoroni creative director Paul Beech, who founded the company with Jon Williamson. "Not only does it allow us to consolidate into one Sheffield site, the modern building gives us the confidence to extend our production lines to meet the increased demand, and have a springboard to expand from."
Pimoroni, who's name apparently comes from 'pirate monkey robot ninja', started "with two laser cutters and two fire extinguishers" in a Sheffield lock-up making the Pibow Perspex case for Raspberry Pi, and now it has its own PCB production lines.
The company has also created bespoke technical solutions for Google, Microsoft, universities and academic institutions in the UK, and acts as a distributor the the products of other companies.
"There's a new generation of hobbyists, makers and inventors growing out there," said Beech. "During the past year we have seen our market fare well as more people worked from home and picked up new projects. We have also seen a younger demographic become electronic enthusiasts who blend coding and making."
Sheffield's Wake Smith Solicitors acted for Pimoroni on the lease of the building, and bought the move to the attention of Electronics Weekly.
"Laura Sanderson of Wake Smith Solicitors represented us negotiating a commercial lease on this building. The service we received was exceptional," said Beech.
Photo (left to right) Pimoroni's Marie Wilkins and Katherine Freeman, Wake Smith's Laura Sanderson, then Pimoroni founders Paul Beech and Jon Williamson.