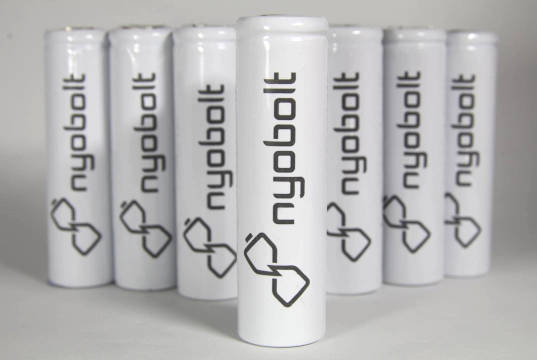 What are the topics covered this week? There's an embedded ReRAM module from Weebit Nano, a report on worldwide wafer capacity, Samsung's domination of the smartphone memory market, MCUs for high-speed factory automation and robotics and Williams Advanced Engineering signing a deal to create high power density batteries for automotive power trains…
5. Weebit Nano tapes out test chip
Weebit Nano has completed the design and verification stages of its embedded ReRAM module, and taped-out a test-chip that integrates this module. This test-chip will be used as the final platform for testing and qualification, ahead of customer production. "The test chip containing this module will allow Weebit to demonstrate to customers a fully functional ReRAM product that can be readily integrated into their System-on-Chip and enable customers to accelerate their design process," says CEO Coby Hanoch.
4. Taiwan and Korea host 40% of worldwide wafer capacity
Taiwan and Korea have over 40% of the total world wafer capacity, according to IC Insights' Global Wafer Capacity Report. The report looks at the total installed monthly capacity of fabs located in a region regardless of the headquarters location of the companies that own the fabs. For example, the wafer capacity that Samsung has installed in the U.S. is counted in the North America capacity total, not in the South Korea capacity total. The ROW "region" consists primarily of Singapore, Israel, and Malaysia, but also includes countries/regions such as Russia, Belarus, and Australia.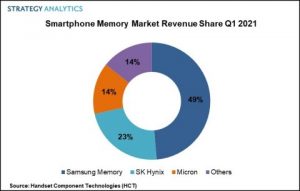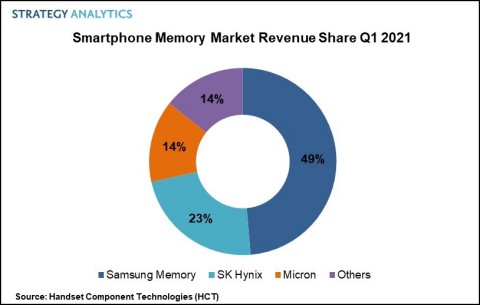 3. Samsung supplies 49% of smartphone memory market
Samsung supplied almost half the $11.4 billion smartphone memory market in Q1 2021, says Strategy Analytics. Its 49% share (DRAM & NAND) was followed by Hynix and Micron according to SA's report, Smartphone Memory Market Share Q1 2021: Samsung Memory Captures Top Spot with Samsung, Hynix and Micron taking an 80%+ revenue share in the Q1 smartphone memory market. In Q1 2021, the smartphone NAND flash market witnessed 18% y-o-y growth in revenues driven by the adoption of UFS NAND flash chips, especially in mid and high-tier devices.
2. TI creates all-real-time low-latency MCUs for industrial control
TI is aiming at high-speed factory automation and robotics with an all-real-time branch of its Sitara microcontroller family tree. Called the AM2x series, the MCUs have multiple Arm Cortex-Rx real-time cores and, unlike other Sitara devices, no Cortex-Ax application processors. The first members available will be numbered AM243x (see diagram) and have 800MHz Cortex-R5F cores. "The AM2x family only features MCU real-time cores, along with specialised accelerators and I/O to meet specific design needs," TI general manager Mike Pienovi told Electronics Weekly.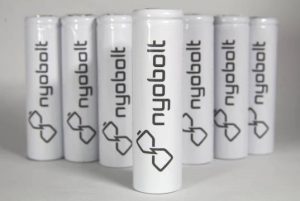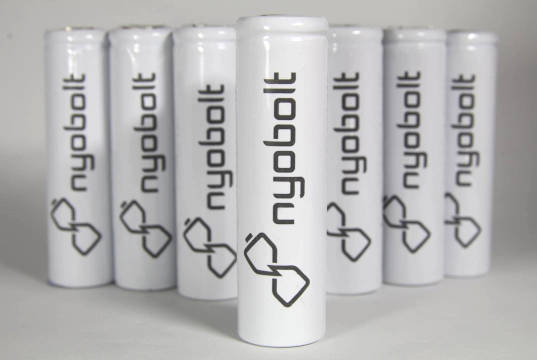 1. Williams teams with Nyobolt automotive powertrain batteries
Williams Advanced Engineering (WAE) and battery start-up Nyobolt have signed a deal to create high power density batteries for automotive power trains. "Niobium-powered lithium-ion battery technology from Nyobolt delivers a step change in power density, cycle life and fast charging capability," according to Williams. "The technology has ideal attributes for high performance vehicles, such as motorsport." WAE was the engineering arm of the Grand Prix company, and it is the battery provider for Extreme E, Formula E Gen 3 and ETCR electric touring cars.