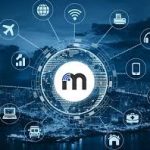 Cosemi's IP and patent portfolio include a range of hybrid active optical cables (AOCs), optical transceivers and optical engines.
 "Our combination joins together the disruptive technologies of two pioneering companies into one ultra-low latency solution we are calling True Xero that bridges the gap between wired and wireless applications," says Mobix CEO Fabian Battiglia.
"Our hybrid cable technology and optical chip solutions along with Mobix Labs' advanced CMOS-based wireless technologies will provide more opportunities in the 5G mmWave market," says Cosemi CEO Nguyen X Nguyen.