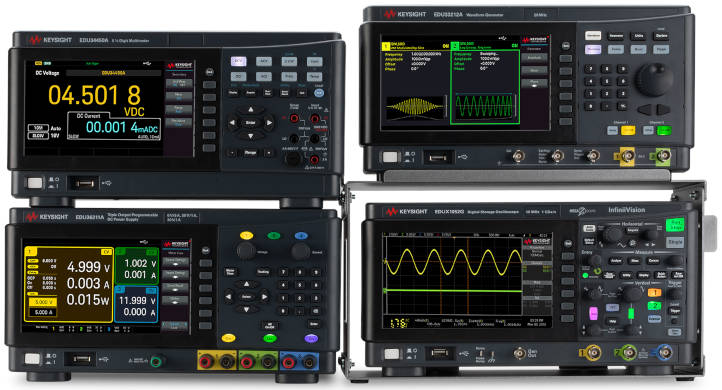 "All four instruments have a consistent look and feel, the same graphical user interface and connectivity," said company v-p Christopher Cain.
They all have a 7in LCD interface and are:
EDU36311A triple-output power supply
EDU33212A dual-channel arbitrary function generator
(or EDU33211A single-channel)
EDU34450A  5.5 digit multimeter
EDUX1052G 50MHz oscilloscope
"General test labs, as well as university teaching labs, need test instruments that are connected to each other, connected to the lab and connected to the cloud," said the Keysght. "Smart Bench Essentials products are reliable and capable instruments developed for the design and test of products in manufacturing and R&D, offering a compact design that is ideal for small manufacturing businesses."
PathWave BenchVue is the application software linking the instruments, allowing them to be configured, storing data on a PC and exporting that data in standard readable formats for post-analysis work and report generation.
Optional is PathWave Remote Access Lab software for on-line learning that allows students to remotely access the lab setup via a web browser, as wel as PathWave Lab Manager software to handle lab assets.