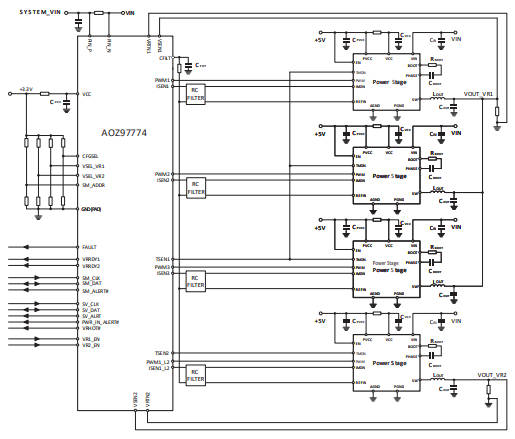 Intended to work from 12V intermediate power rails, AOZ97774 controls three phases of power switching for one output and a single phase for the other output (VR13 3+1 configuration), with all parameters programmable through a r1.2 PMBus interface. Automatic dynamic phase management is included.
"The device utilises digital technology to implement all control and power management functions," according tot he company. "It can be configured using PMBus or pin-strap to select custom configurations stored in non-volatile memory and 15 custom configurations in read-only memory. Up to 31 output voltage settings can be selected by pin-strapping."
Multiple configurations one controller to behave as 15 separate power designs for easier logistics control.
The non-volatile storage has 1,000x read-write capability which is "very useful during the system bring-up and debug process", said AandO
Protection is included against load over-current, under-voltage, over-voltage and feedback disconnection. A back-box fault recorder can capture fault information in non-volatile memory.
Remote sense allows 0.5% Vout accuracy, and telemetry includes input and output: voltage, current and power, as well as temperature.
It needs to work with up to four smart output power stages, from other companies or AandO's own AOZ5276, AOZ5273 or AOZ5277.
Using AOZ5276, 240A peak can be supported at the three-phase output and 80A peak on the second. "Typical application dc current load per phase is in the range of 25-50A," said the company.
AOZ97774QE comes in a 5 x 5mm QFN package and needs a 3.3V supply.
Applications are foreseen in 5G wireless network sub-systems including control unit (CU), digital unit (DU) and radio unit (RU) sub-systems.
The AOZ97774QE data sheet is here
Maxim recently introduced a PSU evaluation kit aimed at Intel VR13.HC server CPUs.