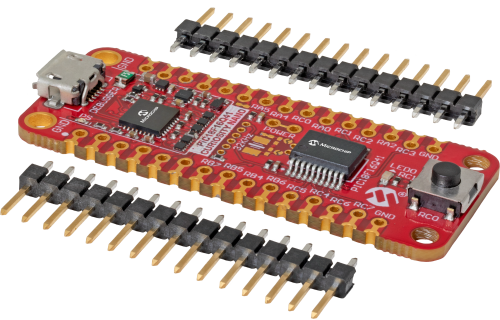 Microchip's low-cost evaluation kit for the PIC18F16Q41 8-bit microcontroller (MCU)
The PIC18F16Q41 Curiosity Nano evaluation kit from Microchip Technology is a hardware platform to evaluate MCUs in the PIC18FQ41 family. This board has the PIC18F16Q41 MCU mounted. Supported by MPLAB® X IDE, the board provides easy access to the features of the PIC18F16Q41 to explore how to integrate the device into a custom design. The Curiosity Nano series of evaluation boards include an on-board debugger. No external tools are necessary to program and debug the PIC18F16Q41.
With the award-winning MPLAB X integrated development platform and MPLAB Code Configurator (MCC), the kit provides access to the intelligent analog and core independent peripherals on the PIC18F16Q41. MCC is a free graphical programming tool for configuring a rich set of peripherals and functions specific for user applications. Users can take their next idea to market with a development board that they can keep in their pocket. With full programming and debugging capabilities, the PIC18F16Q41 Curiosity Nano evaluation kit has pre-programmed firmware to start development immediately.
Features:
PIC18F16Q41 MCU
One mechanical user switch
On-board debugger

Board identification in Microchip MPLAB X
One green power and status LED
Programming and debugging
Virtual serial port (CDC)
One logic analyzer channel (GPIO)

One yellow user LED
USB powered
Adjustable target voltage

MIC5353 LDO regulator controlled by the on-board debugger
1.8 V to 5.5 V output voltage (limited by USB input voltage)
500 mA maximum output current
more information: https://www.microchip.com/Developmenttools/ProductDetails/EV26Q64A