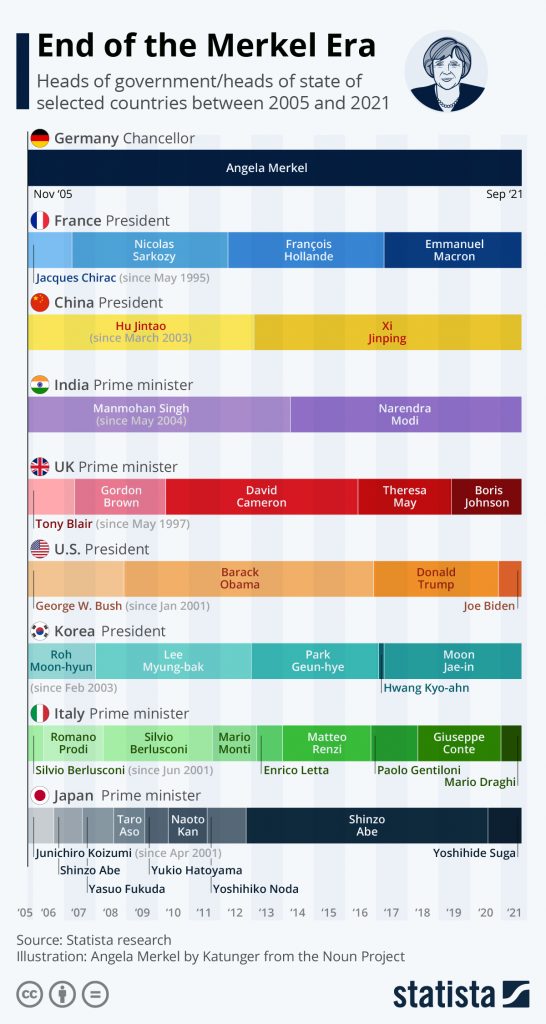 The 67-year-old steered the country through the financial crisis of 2008, the Fukushima disaster in 2011 (including its repercussions for atomic energy stronghold Germany) and the 2020 COVID-19 pandemic as well as her government's decision to taken in more than one million refugees in 2015.
During her long career, Angela Merkel – or Mutti ("mommy") as the Germans call her – has seen many world leaders come and go. At the helm since 2005, she has been a peer to four American and four French presidents as well as five British and eight Italian prime ministers (one of whom, Silvio Berlusconi, even had two separate terms).
Only the Japanese were able to match the musical chairs at the top of the Italian government. Eight Japanese premiers made their introductions to Angela Merkel (and she to them), also including one returning one, Shinzo Abe.
Abe had the longest consecutive term of any Japanese prime minister opposite Merkel between 2012 and 2020. This beats the longest consecutive term for an Italian prime minister of around 3.5 years.
Manmohan Singh Of India shared 8.5 years in office with Merkel from 2005 to 2014.
Narendra Modi and Merkel are going on 7.5 years of shared time in office come September.
Xi Jinping has served opposite Merkel since 2013.
However there is one world leader who has been in office, either as President or Prime Minister, throughout Merkel's reign – Vladimir Putin – who became President in 1999 and is president today  after 23 years in office.