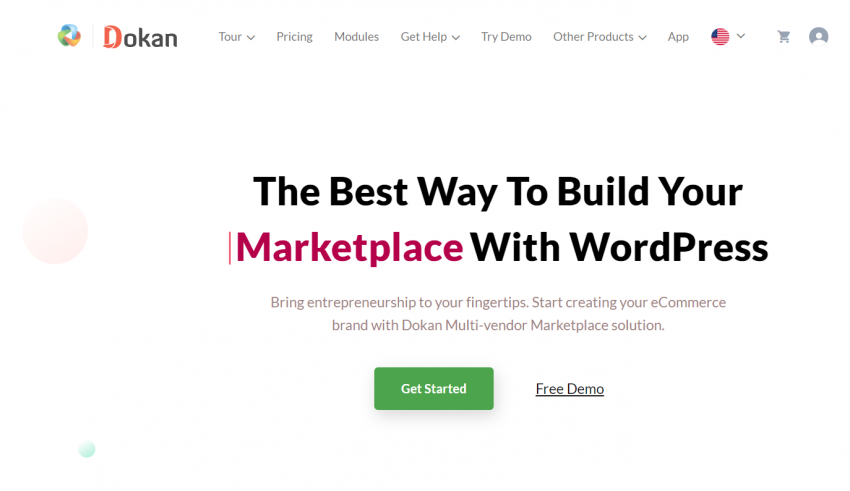 Creating an online marketplace is tough, especially since there are a lot of factors involved. You need to do so many things, like displaying products, setting up prices, making payments, and so on. You need some advanced tools for that.
There are platforms and plugins for WordPress that allow you to host an online marketplace like WooCommerce. But if you want to give yourself and your vendors a smooth experience, then you will need an additional plugin.
Dokan Multivendor plugin is the one you are looking for. This is one of the best frontend plugins for WordPress, which contains all the features you need to set up and run your marketplace smoothly.
What is This Plugin For?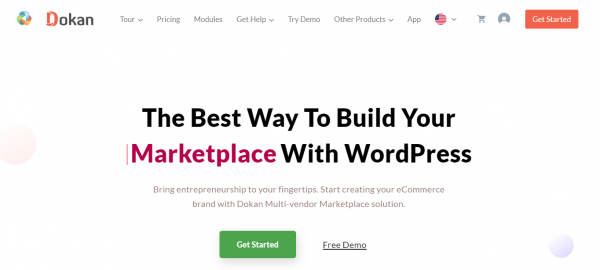 It is a WP plugin based on WooCommerce. You can create a multi-vendor marketplace where different shop owners can come together and sell products.
You can build your personal marketplace that will look and function like renowned marketplaces such as Amazon, eBay, Shopify, and so on.
When creating a multi-vendor store, you need to spend a lot of time and money to look for extensions that will allow you to get the basic functionalities. But Dokan will help you set up your own marketplace in just 30 minutes.
There are several customization options that you can use to create a traditional marketplace, digital marketplace, or service-based marketplace.
Getting started with Dokan and building your e-commerce website is easy and does not take much time. Follow this guide to get detailed information on how to install Dokan.
Dokan Exclusive Features for Marketplace Owners
There are tons of features in the Dokan plugin. Let us take a look at the most significant features among them.
Frontend Dashboard for Vendors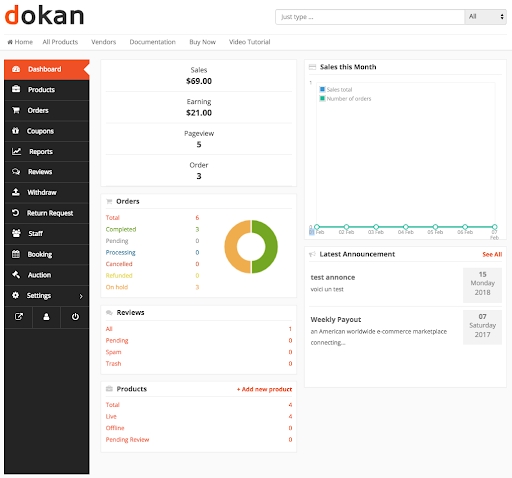 With Dokan every vendor gets their own store with a unique URL and individual frontend dashboard. They can use the dashboard to add new products, create coupons, view analytics of their stores, manage it, and so on. The interface is simple, and all the features are accessible from a menu located at the side of the window.
Using this dashboard, vendors can have complete control of their stores all within one window. If you want to add a product to your shop, all you need to do is to upload that image, set the price and enter some keywords and descriptions. Dokan will take care of the rest.
You can also view and manage your orders and performance from the different tabs present in the dashboard.
Coupons and discounts attract people to your store. Now, you can create different coupons and discounts for stores using Dokan. You can set the amount, type of discount, the usage limit, minimum amount, and more.
Reviews are very important for any store to thrive. With Dokan, people can leave a review about you or your vendor's products.
You and your vendors also get the freedom to manage these reviews. You can approve a review, mark it as spam or delete it. If you are the owner of the marketplace, this will save you a lot of time as your vendors will help you to read those reviews and manage them.
If your vendors want to withdraw money, they have five payment options available: PayPal. Bank Transfer, Stripe, Wirecard, and Skrill.
The owner will be able to select the withdrawal method and minimum withdrawal limit for vendors. You can visit the withdrawal requests page if you want to see whether any vendor has made a request to withdraw money. Then you will be able to approve or cancel a withdrawal request.
You will receive an email notification whenever someone requests, approves or cancels a withdrawal.
Thanks to Dokan's vendor switching feature, you will be able to have a vendor and an admin account at once and switch between those two easily. Once you switch to a vendor account, you can quickly switch to your admin account with just one click.
One thing that will make you fall in love with Dokan is its efficient shipping management. Using this plugin, the vendors can manage their own shipping. You can select shipping zones, delivery prices, local pickup prices, postcodes, and so much more. Integrate Dokan with ShipStation and make the entire management process automated.
This feature will surely take away a lot of burden from your back.
You need to deal with the vendors in your online marketplace. And luckily, Dokan gives you full control over them.
You can go to the Users page to view the list of vendors in your marketplace. Also, if you go to the Selling Options page, you can set the commission type and amount. You can also choose who gets to own the money generated from shipping and tax.
You can also select vendor capabilities. For example, you can choose if you want to allow new vendors to add products, or you can prevent vendors from adding new products in the popup view.
To make sure that only the best products are sold in your marketplace, you can review the products on sale and decide whether they should be published or under review. However, you can also mark some vendors as trusted so that they can put new products on sale without waiting for your approval.
You can see detailed reports about how much you earned from the store. You can select a specific day, year, or vendor to look at their earnings.
Once you select the parameters, you will be shown a detailed graph containing data about sales, orders, and commission.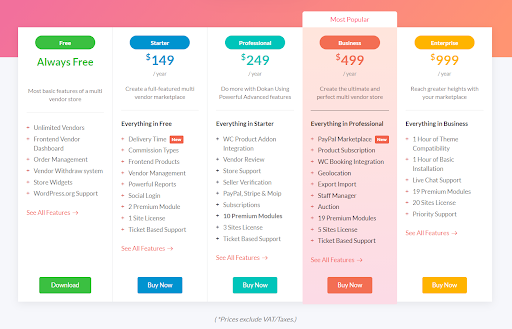 The basic version of Dokan is free, and you get a lot of features in there like unlimited vendors, vendor dashboard, withdrawal management, store widgets, and more.
Dokan paid versions are yearly subscriptions that come with additional features. The starter plan costs $149 a year and has almost all the basic tools you need to host and maintain an online marketplace.
You can also buy these plans for a lifetime.
Wrapping Up
We can keep talking about Dokhan's features, but it won't end. The list is too long. Instead, why don't you visit their website, download the plugin, and try out the features yourself?