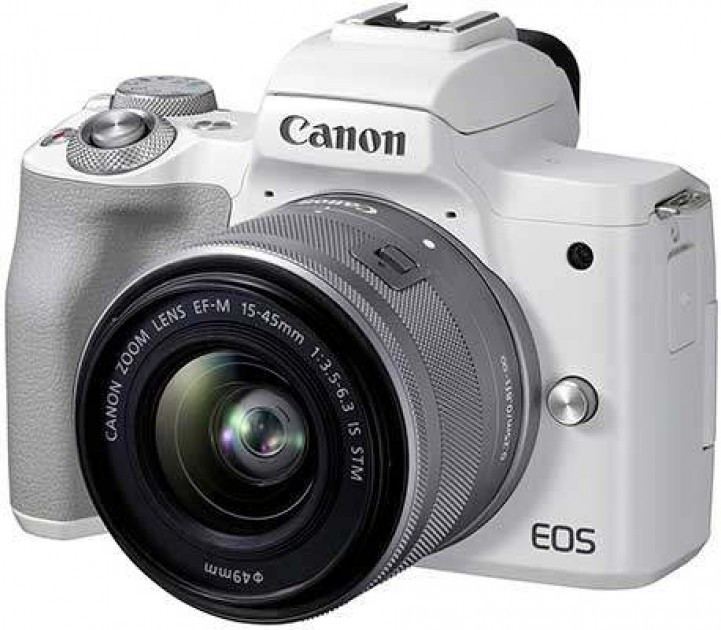 News
First announced in the USA over 5 months ago, the Canon EOS M50 Mark II APS-C mirrorless camera has now been launched in the UK, Europe and Australia.
Don't get too excited though – it seems to be exactly the same camera in terms of hardware as the original EOS M50 that we reviewed in 2018, just with different firmware that improves the autofocusing, enables the capture of vertical video, adds some new touchscreen controls, and allows wireless live streaming to YouTube.
We're not quite sure why Canon couldn't have added these new software features to the original M50 via a firmware update – but if you're still interested, the Canon EOS M50 Mark II will be available from the end of March 2021 priced at £589.99 / €659.99 body only.
Canon UK Press Release
Canon EOS M50 Mark II – Key Features:
• Create and share content to any platform through Wi-Fi and Bluetooth connectivity
• Capture vertical videos to post direct to social channels
• Clean HDMI output for direct livestreaming from YouTube
• 24.1MP APS-C sensor for stunning images and Full HD video
• Versatile Vari-Angle touchscreen display for multiple shooting options
• A 3.5mm microphone input for professional sound quality
• Lens compatibility to match all perspectives and styles
Canon launches EOS M50 Mark II as social content creation continues to soar
Create standout content with this versatile mirrorless camera, packed with smart features and stunning image quality
London, United Kingdom, 25th February 2021 – In response to the growing demand for high-quality camera equipment to meet the evolving requirements of today's content creators, Canon Europe today announces the EOS M50 Mark II, the successor to the award-winning EOS M50. The global appetite for creating, sharing and watching content on Instagram, YouTube and Twitch shows no sign of slowing down – with people dedicating more time exploring hobbies and learning new skills. In Europe[i] alone, between Q3 2019 and Q2 2020, TikTok saw its monthly usage increase by 93 per cent amongst 16-64 years olds.
A small, yet powerful mirrorless camera, the EOS M50 Mark II makes the entire process from shooting to uploading content easier than ever before. Capable of capturing landscape and vertical 4K video or livestreaming Full HD directly to YouTube[ii], this camera enables creators to take their content to the next level. With a 3.5mm microphone input, clean HDMI and USB output, this camera has all the inputs and outputs a content creator could need. Its compact body, vari-angle touchscreen and compatibility with a range of Canon lenses means users have complete creative freedom – whether they are capturing beautifully framed 'to camera' pieces or are vlogging on the go.
Versatility sits at the heart of this camera. Whether you want to capture high-quality photos for Instagram reels, a native vertical video to share on TikTok, or live stream to YouTube, the EOS M50 Mark II has it covered. With its clean HDMI output, users can create professional-looking live streams and thanks to Canon's free EOS Webcam Utility Software, casual streaming on Twitch or quality video chats with friends and family is all possible.
Meeting the demand for fast-to-market content, the EOS M50 Mark II boasts enhanced mobile connectivity[iii] via Wi-Fi and Bluetooth. This allows control from a mobile device and direct upload of images and movies to social media channels, ensuring they never miss a beat.
Whatever their style or needs, with built-in microphone import, this portable camera can be easily carried around or even mounted onto a gimbal – giving users flexibility. Whether in front of the camera or behind it, the vari-angle touch screen and responsive electronic viewfinder (EVF) also mean users can frame the shot in any situation.
With over 300,000 stories posted to Instagram every minute[iv], the key to making content stand out is quality. The EOS M50 Mark II allows content creators to use Canon's EF-M lens range and EF lenses with a mount adaptor, which includes an ultra-wide lens, perfect for vlogging or a lens with a shallow depth of field to get those selfies just right.
The camera's speed[v], 24.1 megapixel APS-C sensor, Intelligent Auto modes and Eye Detection also gives content creators the edge when it comes to photography – making it possible to take sharp action shots that catch social media scrollers' eyes. But it's not just visual quality that will help users' content gain more views and followers, audio quality is also important. The Canon EOS M50 Mark II has a 3.5mm microphone port, so aspiring YouTubers can create vlogs with impeccable sound quality.
Perfect for vloggers, bloggers and influencers, the Canon EOS M50 Mark II is the ideal choice for content creators requiring stunning image quality, smart features and to live stream to an on-line audience in real-time.
The Canon EOS M50 Mark II will be available from the end of March 2021, but can be pre-ordered from today. For more information, please visit: https://www.canon.co.uk/camera…
The Canon EOS M50 Mark II body retails at £589.99 / €659.99.
Image Gallery
Click on a thumbnail to see the full version.