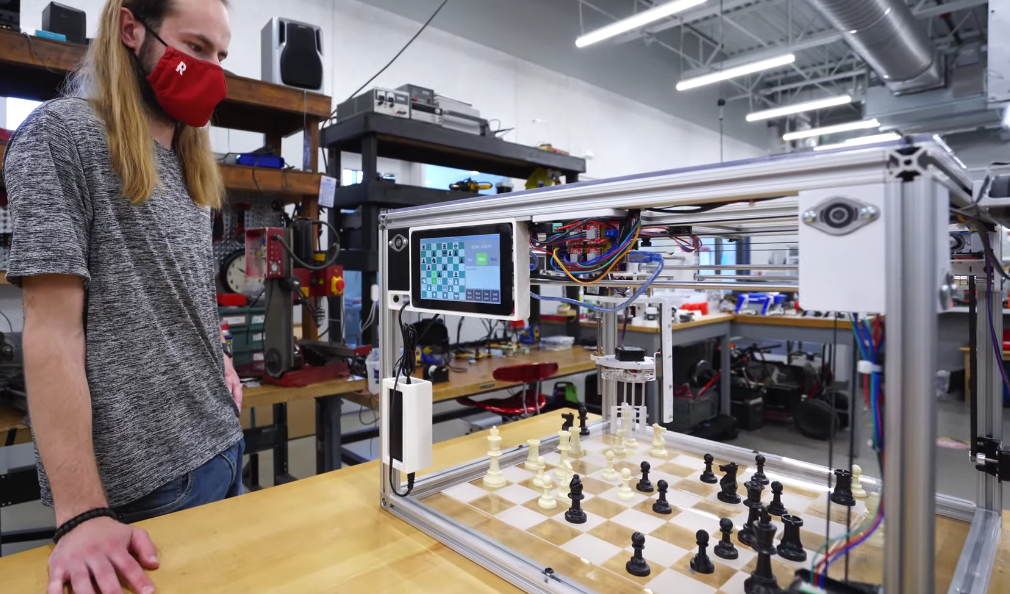 The Gadget Master's work, one Josh Eckels, was highlighted on Twitter by the Arduino team:
This engineering student combined Arduino, AI, and mechatronics to develop a chess-playing robot that stays one step ahead of its opponent: https://t.co/k5JaAiD1Rw pic.twitter.com/JcDW2NJWxb

— Arduino (@arduino) August 5, 2021
And the university where he studied mechanical engineering, the Rose-Hulman Institute of Technology, takes up the story. It quotes Josh:
"You create a challenge when you take on a project like this. I wanted to see it through to the end and to my satisfaction," Eckels says while arranging the 32 black and white chess pieces at their starting positions on the 64-square game board. "I really wanted to do something that would encapsulate all of my technical skills and what I have learned so far. I saw it as a nice closure to my Rose-Hulman career."
The system is explained as follows. A camera situated three feet above the chess board monitors the position of pieces and their subsequent movements.
When a (human) player selects a piece to be moved, the change is processed and fed into an AI-based chess engine, which then determines the best move in response. (I'm guessing the Stockfish output is used.)
The process by which the desired move is achieved involves an Arduino controlling a custom claw gripper that can nimbly move pieces without scattering the board. The system then waits, with disconcerting patience probably, for the opponent's next mistakemove…
"I haven't seen it lose yet," Josh says.
Gripping
As you can see, there's a visual interface for selecting your piece to be moved, and there are four motors used in the system, two of which control the 'x' and 'y' movements across the board. There's also a 'z' motor to move the pieces up and down, in the 'z' direction, as it were. Finally, another motor controls the gripping of a selected piece.
Apparently, most of the robot's mechanical parts were made by multiple 3D printers within the university's Maker Lab.
You can see a great video of his work below.
Josh's chess system was among the student projects featured in the university's Rose Show this year – an event to showcase student ingenuity in engineering and science fields. Excellent.
See also: DecodeChess translates AI chess engine to human-friendly advice