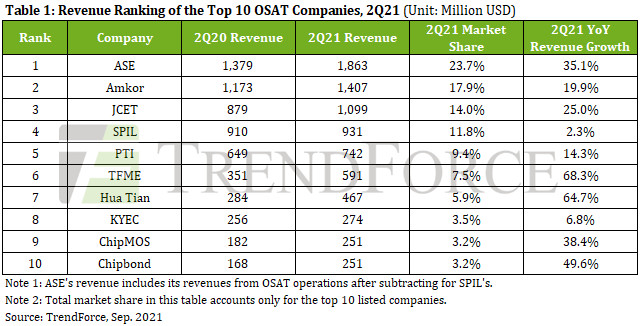 OSAT companies increased their CAPEX and expanded their fabs and equipment in order to meet the persistently growing client demand.
Market leaders ASE and Amkor recorded revenues of  $1.86 billion and $1.41 billion, which represented YoY growths of 35.1% and 19.9%, respectively, for the quarter.
Both companies benefitted from strong demand for 5G smartphones, notebook computers, automotive chips, and networking chips.
ASE allocated some of its capacities to KYEC.
SPIL's Q2 revenue growth of 2.3% was held back by a plunge in demand from its customer Huawei.
KYEC's testing capacities were adversely affected by the pandemic, resulting in a muted 6.8% YoY increase in revenue to a mere $274 million.
PTI gradually recovered from the closure of its Japanese and Singaporean subsidiaries to record 14.3% growth to $742 million
Chinese players, JCET and Hua Tian expanded their capacities in order to meet the massive demand from the domestic 5G telecom, base station, consumer electronics, and automotive markets, recording Q2 revenues of $1.1 billion and US$467 million representing YoY growth of 25% and 64.7%.
TFME's revenue reached $591 million, a 68.3% YoY increase, which was the highest increase among the top 10 OSAT companies in Q2 mainly because it is the main OSAT provider for AMD and AMD captured some of Intel's market share.
Finally, ChipMOS and Chipbond, which specialize in panel driver IC packaging and testing, benefitted from major sporting events such as the Tokyo Olympics and UEFA Euro 2020.
Given the skyrocketing demand for display panels, IC testing demand for driver ICs, including TDDI and DDI, also underwent a corresponding rise.
ChipMOS raised the price of its packaging services for memory products and subsequently registered a spike in both revenue and gross profits.
While both companies' revenues reached $251 million, ChipMOS and Chipbond each registered revenue growths of 38.4% YoY and 49.6% YoY, respectively.