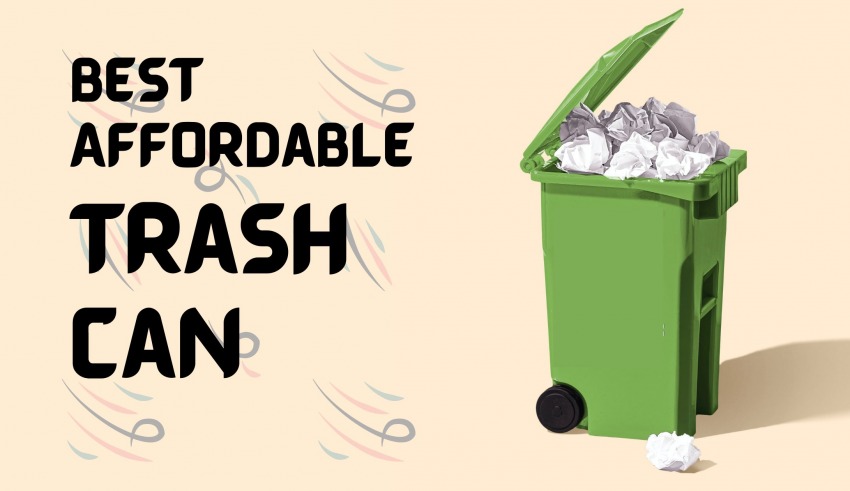 When you think about trash cans, the first thing that pops up in your mind is the smelly, dirty bin under the kitchen sink or pull-out cabinet. As uninteresting as this word sounds, it is one of the most useful products you can have in your home. And if you are looking for a stylish yet functional trash bin to dispose of your waste without spreading odor, then we have the right solution for you. 
There are multiple options of Garbage bins to suit everyone's needs. Moreover, they are designed in such a way that you can fit these cans anywhere in your home with limited spaces. Be it the best touchless waste can, best kitchen trash bin, or even best stainless steel trash can,
we have curated a list of the 13 best trash cans you can use in 2022. Let's have a look!
iTouchless Automatic Trash Can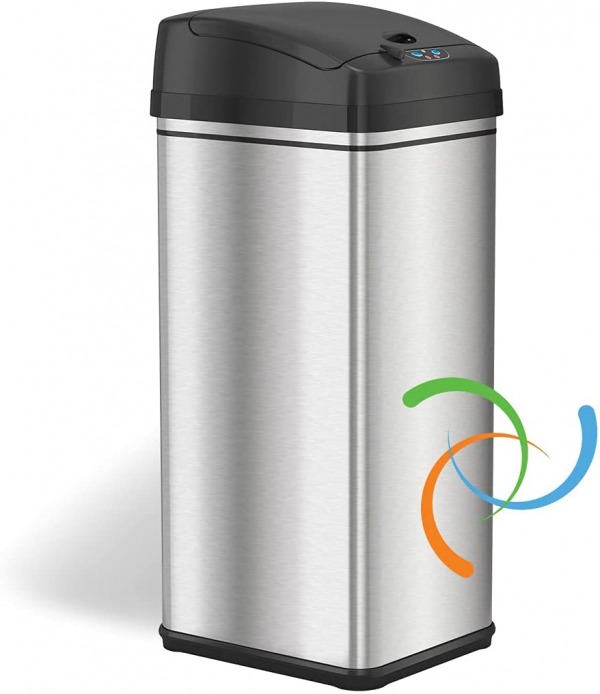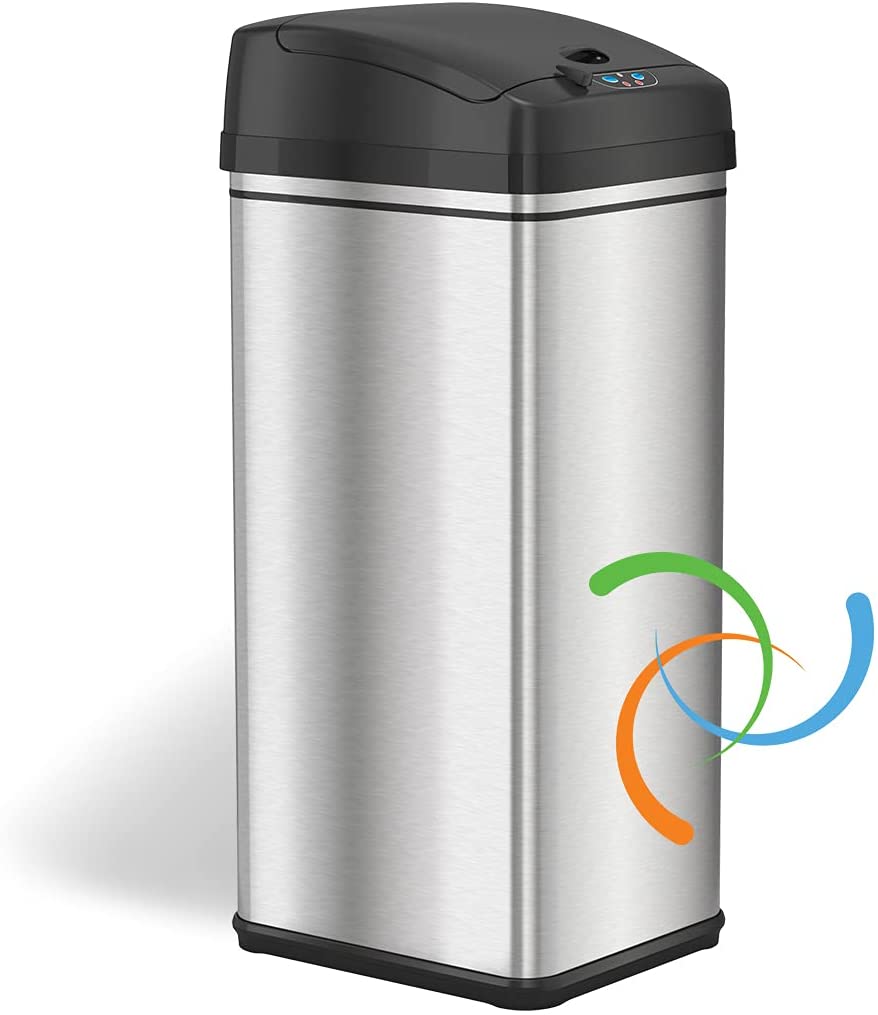 To start our list, we have an iTouchless automatic trash bin. As the name suggests, it is one of the best touchless trash cans with a motion sensor that opens the lid automatically for you. Made from stainless steel, this 13-gallon garbage can is long-lasting, and for $69.99 it is worth the quality. 
Besides being one of the best stainless steel trash bins, iTouchless comes with an in-built carbon filter embedded into the can's shell. This helps in neutralizing the odor. The shell in itself looks very stylish with black stainless steel or platinum design. 
Since it is touchless, it works on four D-size batteries that can operate the sensor for at least one year. If you don't want to keep purchasing new batteries, you can go for another version of the iTouchless automatic trash bin that runs from an AC adapter. 
With so many benefits, you also need to consider the cons of this product. This product does not include an inner liner. Instead, there is a ring to hold the garbage bag which might be a bit of a hassle. Additionally, with such high-tech appliances, there may be few bugs that you may encounter during usage. For example, the automatic sensor may stop sometimes. However, with regular cleaning, especially around the sensor area, you can avoid that problem.
---
Rubbermaid Classic Step-on Trash Can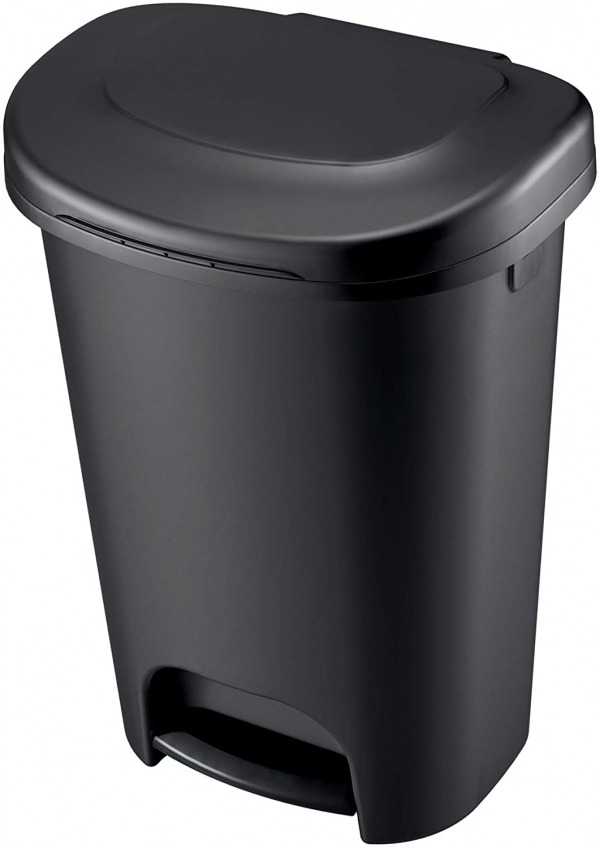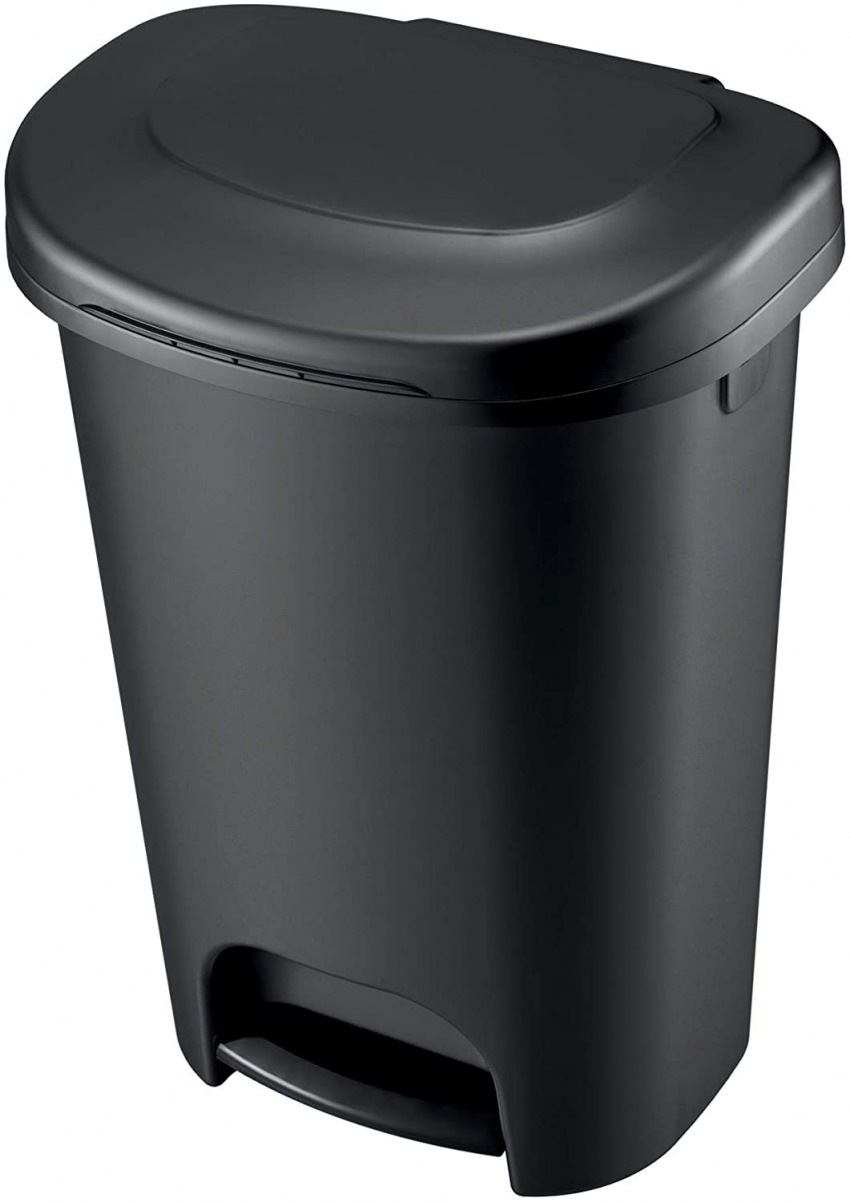 Seeking a simple yet effective trash bin? Then the Rubbermaid Step-on waste can is a great option. It is one of the best kitchen trash cans that take care of all your basic waste disposal needs at an affordable price. 
With durable construction and contemporary design, this 13-gallon garbage bin outperforms all other plastic kitchen trash bins available in the US market. Fit it anywhere in your kitchen without any hassle. Moreover, its rich black color gives a stylish and sophisticated look. Another benefit that makes Rubbermaid one of the best brands is the ease of cleaning. And to top it all its low price point ($19.97) offers a great deal. 
One drawback of this classic step-on trash basket is that the lid is not tight enough to keep the pets out of garbage. However, it fits well to prevent the odors from escaping the wastebasket. Although it is one of the best kitchen garbage cans to cover basic needs, it is not a long-lasting product as compared to a stainless steel trash bin.
---
Ninestars Touchless Motion Sensor Trash Can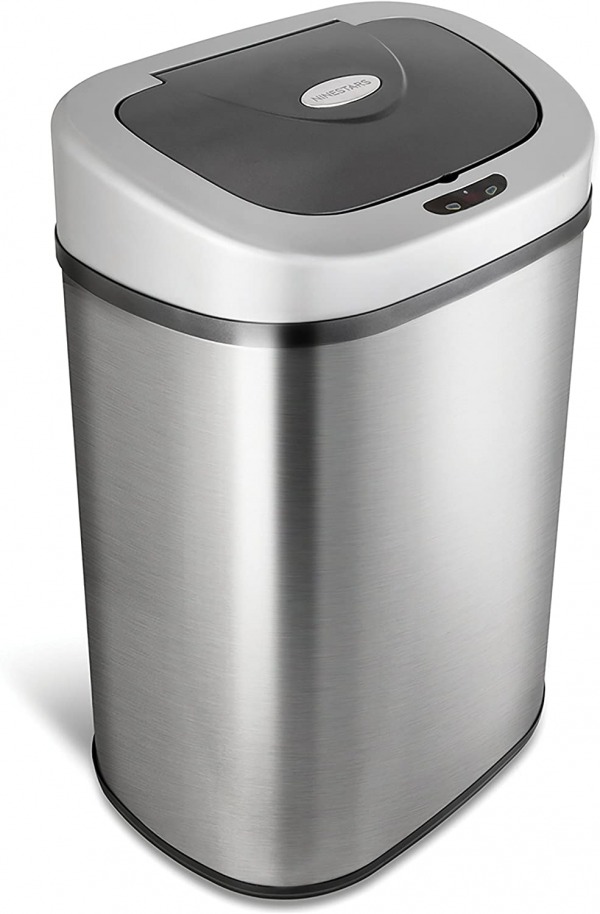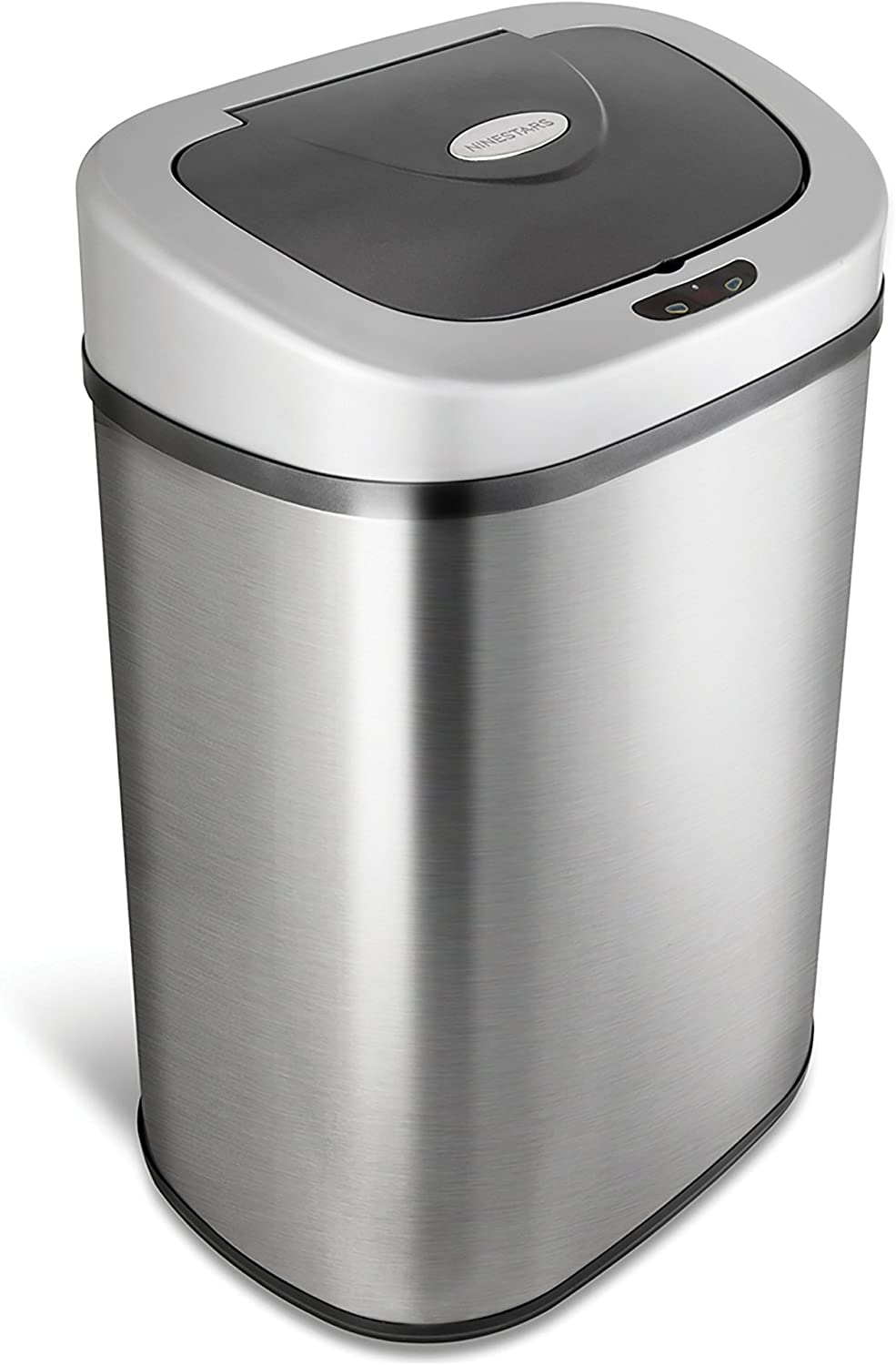 If a 13-gallon trash bin is not big enough for your kitchen needs, the Ninestars automatic touchless infrared motion sensor trash basket offers a 21.2-gallon capacity. It is an amazing addition to the list of the best touchless trash bins. 
Moreover, it is perfect for people who are above average in volume cooking and require a kitchen trash bin with a bigger capacity. And since this product offers a lot of room to dispose of your waste in one go, it reduces the use of new garbage bags every day. Moreover, you only need to empty the can once a week or two. 
Made from stainless steel, this waste bin features excellent build quality with a touchless experience. The infrared motion sensor automatically opens and closes the lid quietly and smoothly. It works on four D-size batteries that can last for one year. So, if you are looking for a massive touchless trash bin for your kitchen waste disposal, purchase the Ninestars trash can for $64.98.
---
GLAD Step-on Trash Can with Clorox Odour Protection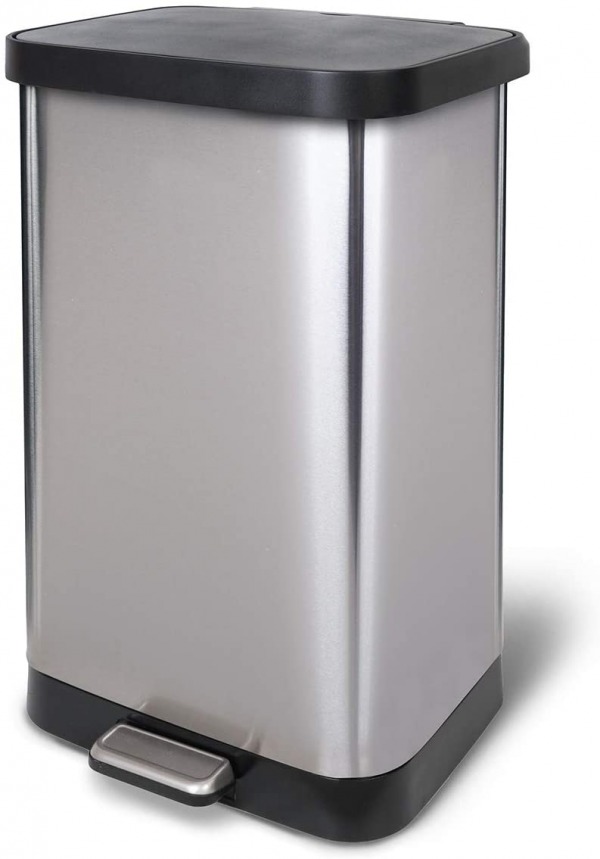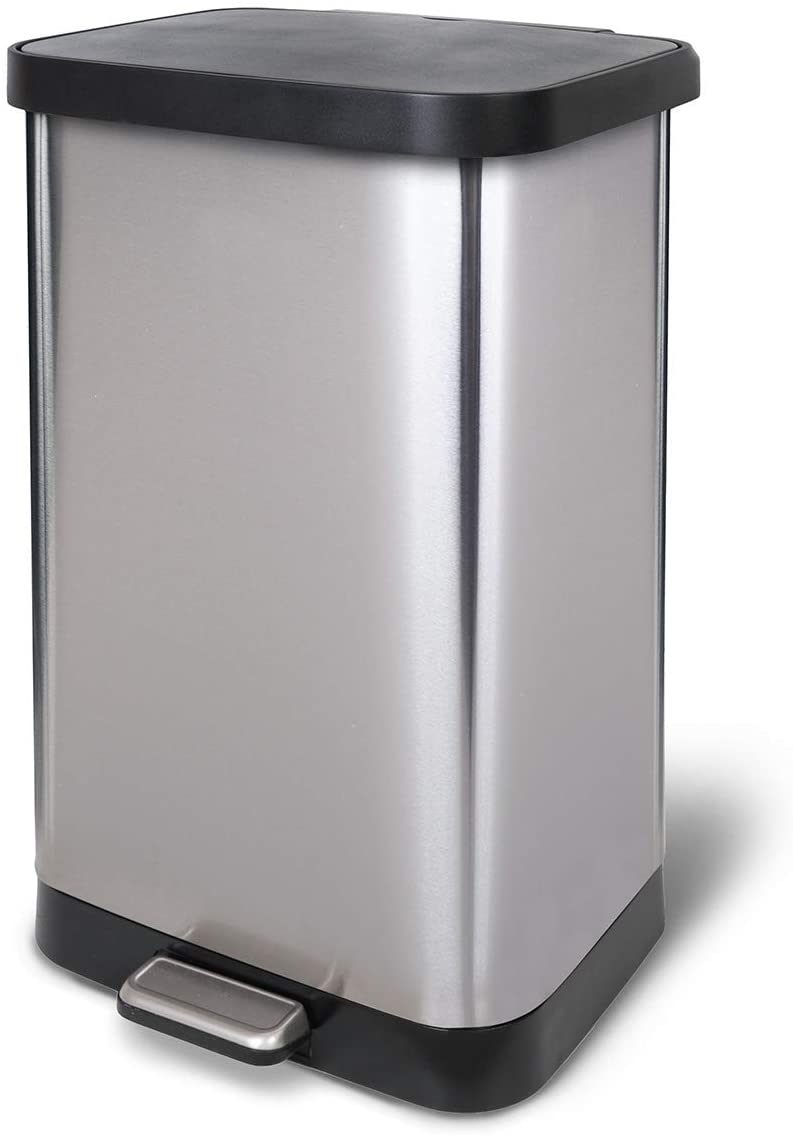 Next on the list is the largest and the best trash bin out of all – GLAD step-on trash can. It is a 20-gallon stainless steel trash bin that can handle a whole week's worth of trash. The design is clean and sleek. The foot stepper and the trash bag holder work great. 
What makes this product one of the best stainless steel trash bins on the list is the Clorox odor protection feature. This protects the lid and therefore the lid frame by inhibiting the expansion of odor-producing bacteria. Thus increasing the functionality and life span. 
Another outstanding feature of this product is the rear bag compartment. Here you can conveniently store extra garbage bags and dispense easily from the side without having to move the bin. For a price of $85.88 with a 30-days money-back guarantee, the GLAD step-on trash bin is one of the best products you can have.
---
Ninestars Step-on Trash Can Combo Set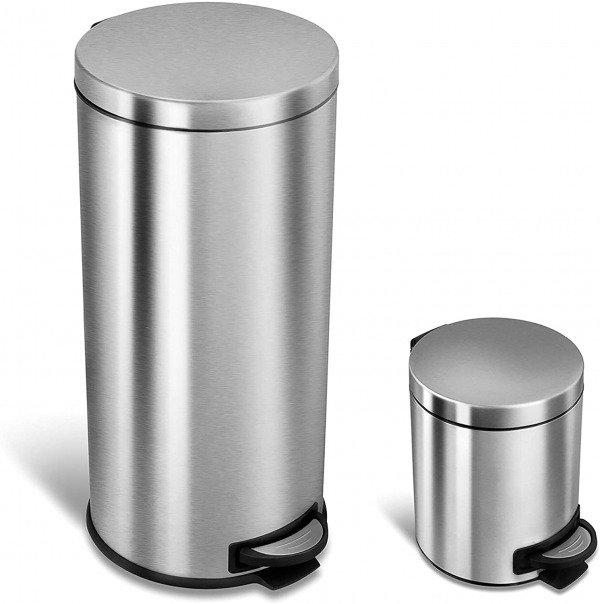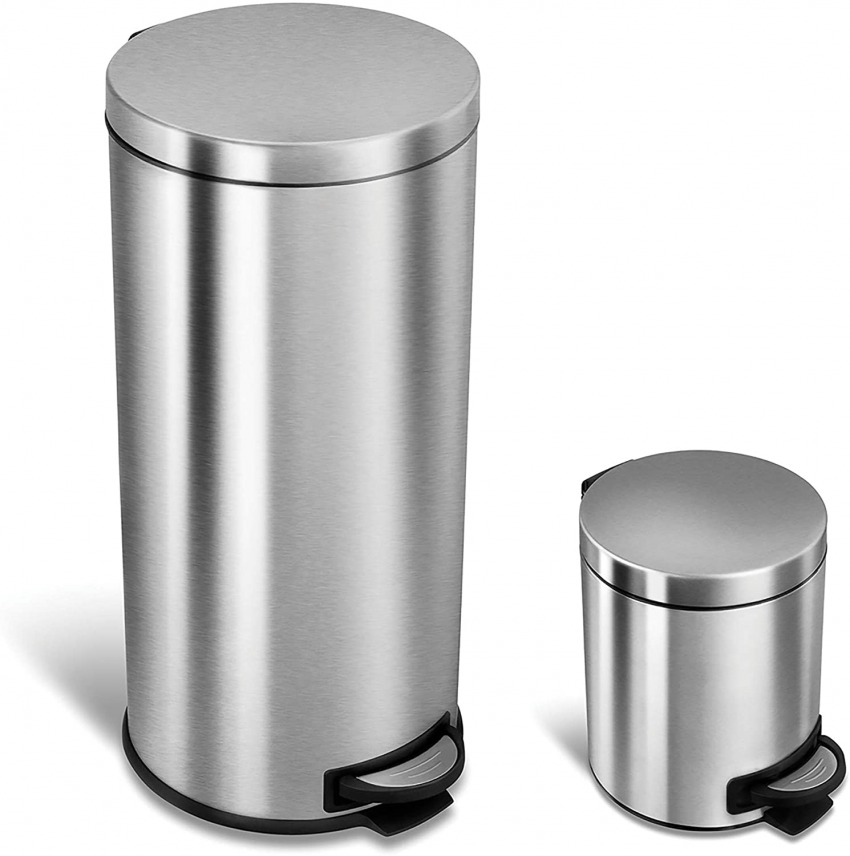 This stylish step-on trash bin from Ninestars features two of the best stainless steel waste bins. The 8 gallons and 1.2-gallon combo sets come with a removable bucket liner that holds the trash bag sturdy in place. Moreover, it prevents the bag from overhanging. Thus providing a neat and clean appearance. 
Both the stainless steel cans are fingerprint-proof. They are sleek and not bulky so you can easily fit them in tight spaces. It is easy to clean and minimizes odors with fully closed lids. The smaller wastebasket is roomy and enough to hold your study room or bathroom waste. So, if you are looking to get a combo set for your home at an affordable price of just $44.13, Ninestars is the best to buy.
---
GLAD Small Metal Waste Basket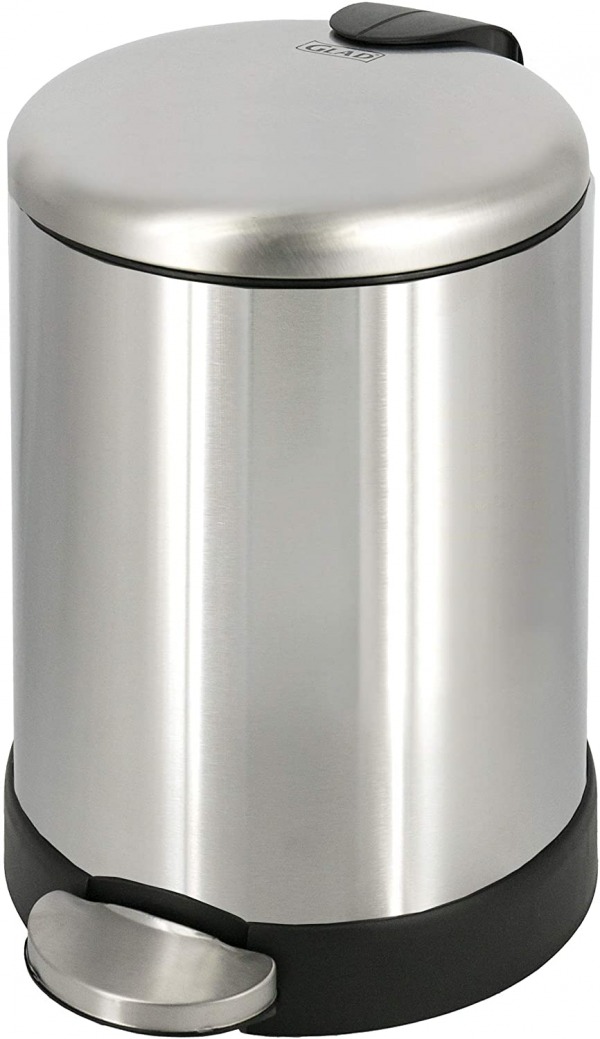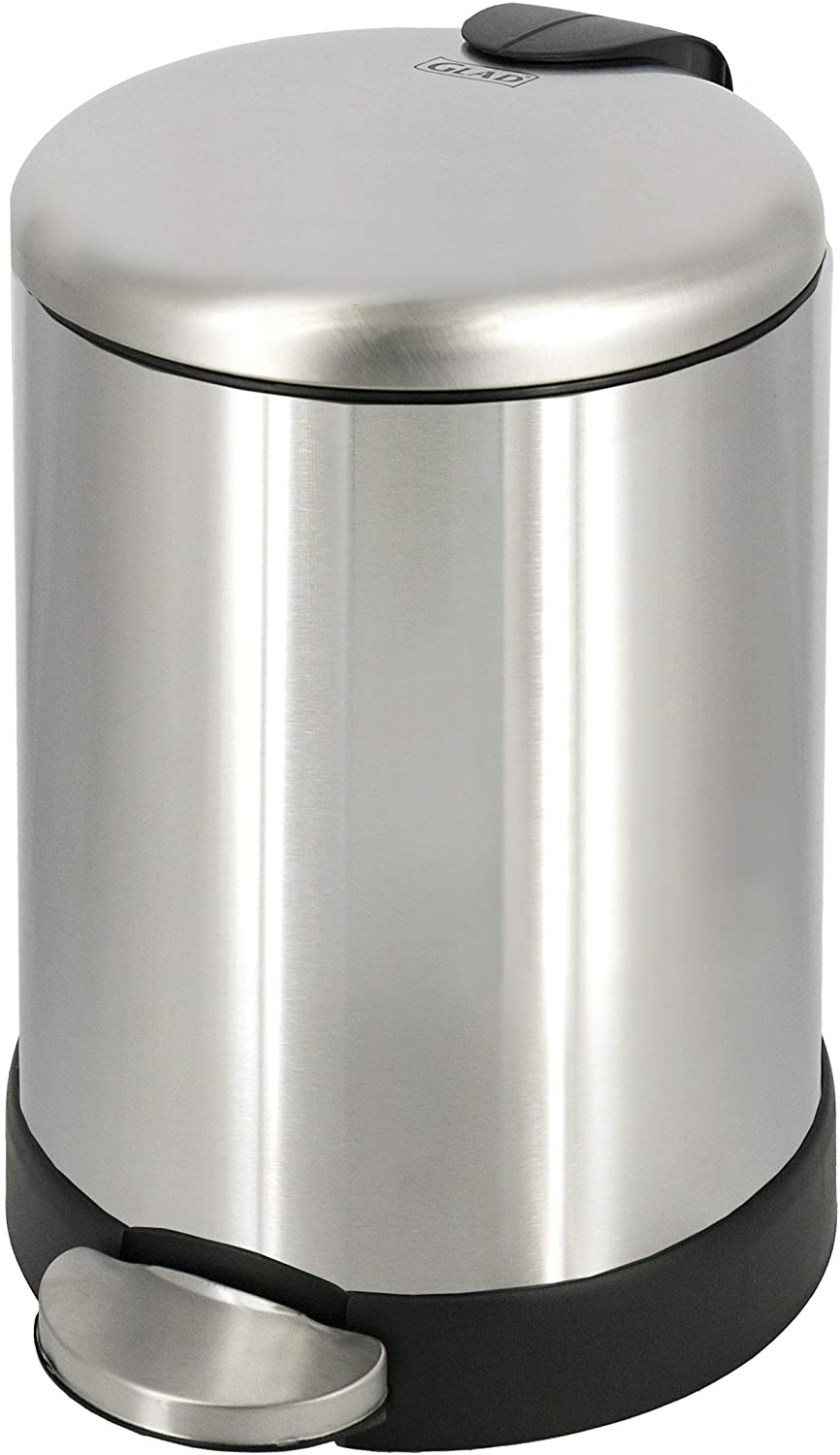 For all the small trash bin lovers, GLAD small metal wastebasket is one of the best to buy. This 1.2-gallon compact can is very versatile. It is perfect to fit in your room or kitchen with limited space. Additionally, it is excellent to be used as an office wastebasket near your desk. You can even use it as a lidded bathroom wastebasket. 
The GLAD metal wastebasket is made from a brushed stainless steel finish which provides an impressive style. The lid is immune to fingerprints and smudges. Thus maintaining a sheer polished look. To make waste disposal more convenient, the trash can has a step foot pedal that offers hands-free use. 
Adding to its benefits is a removable inner bucket placed inside the lidded wastebasket. It is perfect for cat litter disposal or bedroom trash. In addition to this, it also fits 4 gallon and 8-gallon trash bags. For easy waste removal, simply lift the lid and tilt back 90 degrees. The lid will then stay open for trash removal. The price of a GLAD small metal wastebasket is $29.99.
---
Amazon Basics Step-on Trash Can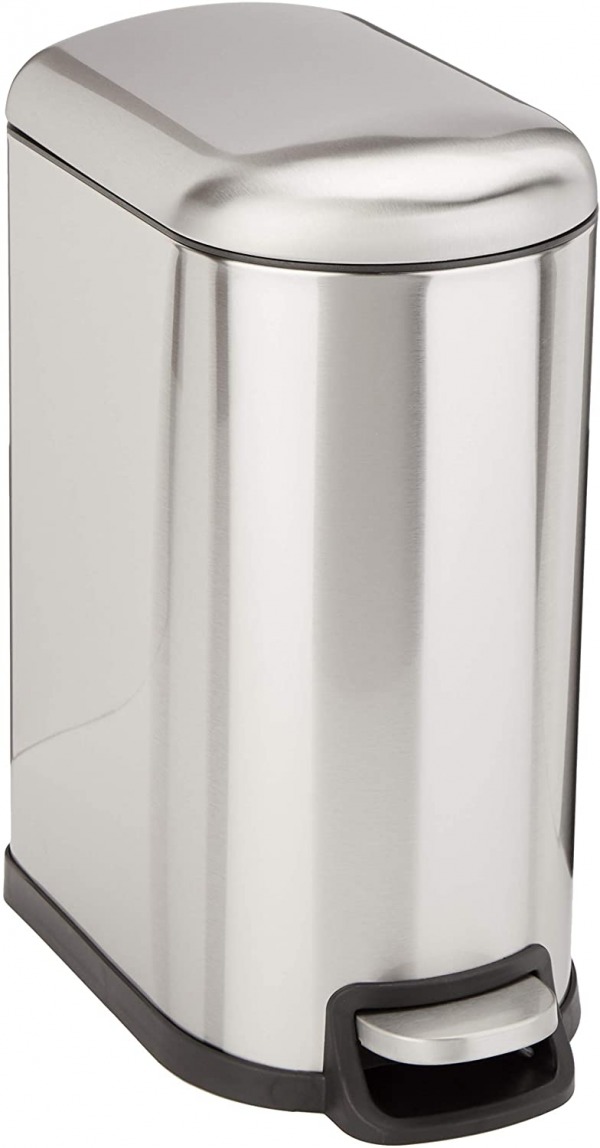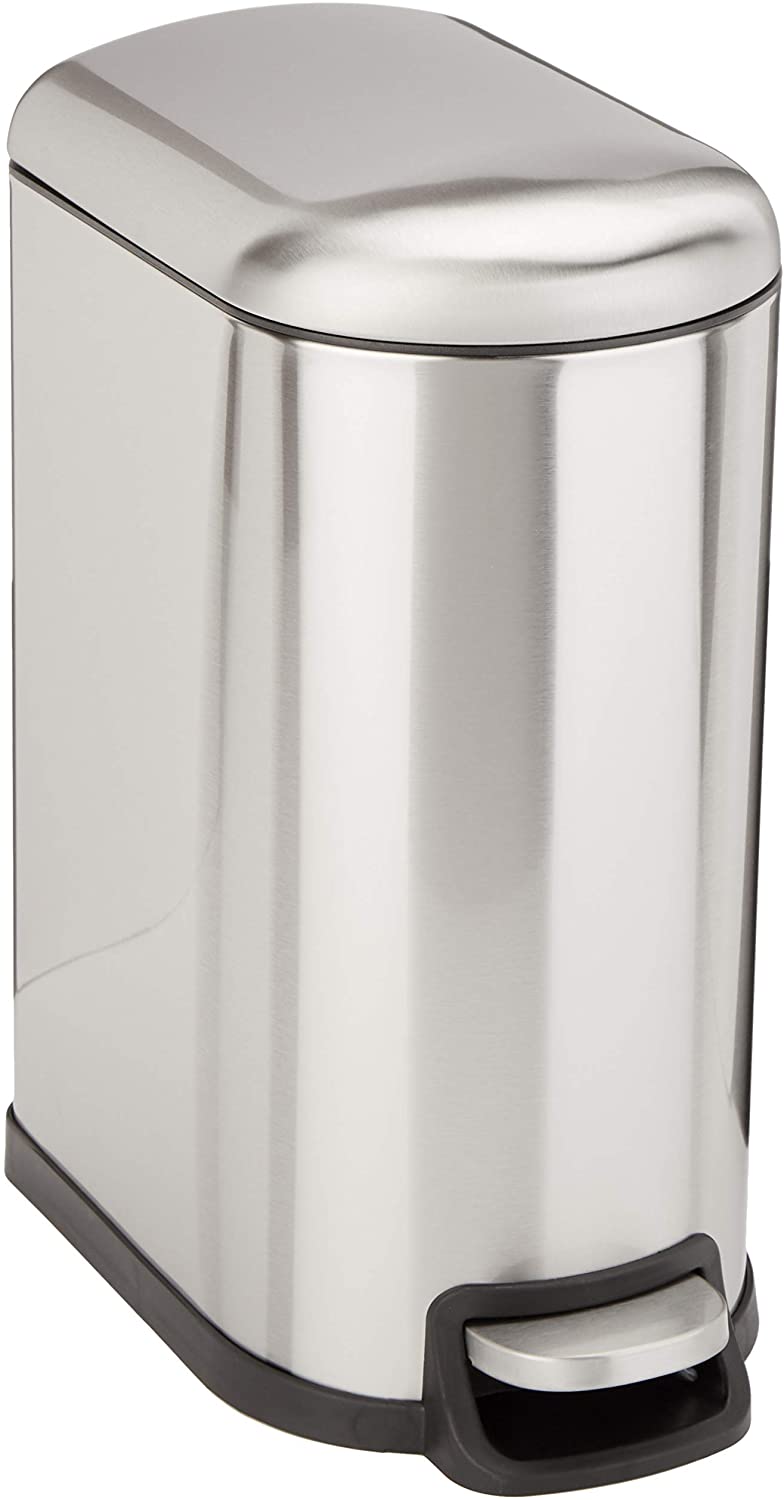 This 2.6-gallon stainless steel rectangular step-on trash bin from Amazon Basics may not be a high-tech kitchen trash bin. However, it is one of the most durable, smudge-resistant, and fingerprint-proof waste cans. The heavy-duty plastic interior bucket can be easily removed for garbage disposal and replacement. Moreover, its compact size makes it the best stainless steel trash can to fit in narrow spaces and tight corners. 
For just $ 10.99, this step-on kitchen trash bin comes with a soft-close lid that reduces the noise from opening and closing. This feature also helps in extending the life span of the product. Thus making it more durable. It looks sleek and works perfectly. Additionally, it can hold much more than you think.
---
AMEIQ Car Waste Container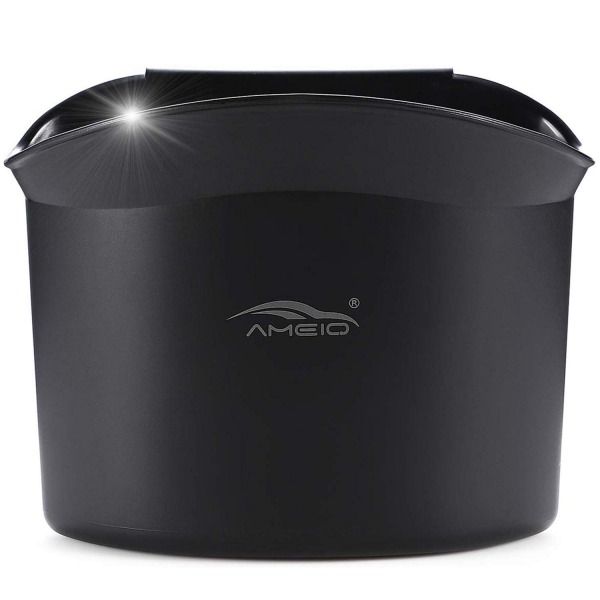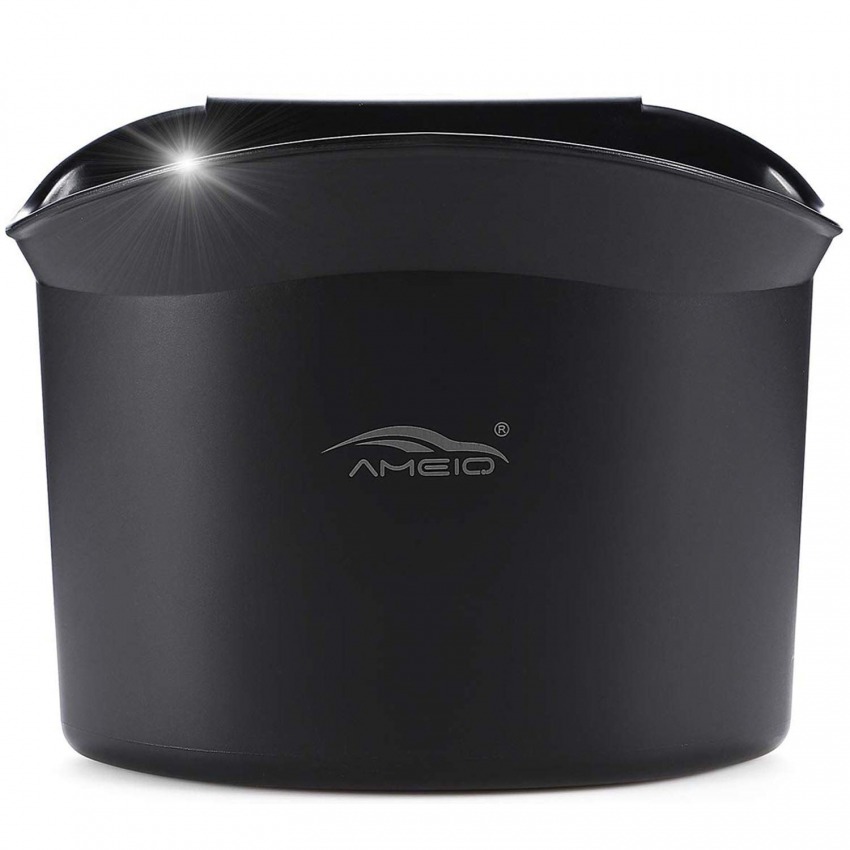 Next on the list is a compact yet one of the best trash containers to fit in your car – the AMEIQ car waste container. It is a plastic garbage bin perfect for collecting rubbish litter in your vehicle or even in your office/study room. This trash container comes with a Velcro design that helps to conveniently install the basket in the position that is most frequently used in the car. The Velcro also provides the freedom to easily remove the basket for cleaning. 
Additionally, it consists of a protective sheet design that prevents any damage or scratch on the car body. The high-quality PP plastic material is tough and more durable as compared to cloth garbage bags. Moreover, you can use it without a film garbage liner. At an affordable price of $16.88, get yourself a super practical and elegant-looking waste container for your car.
---
SONGMICS Dual Section Trash Can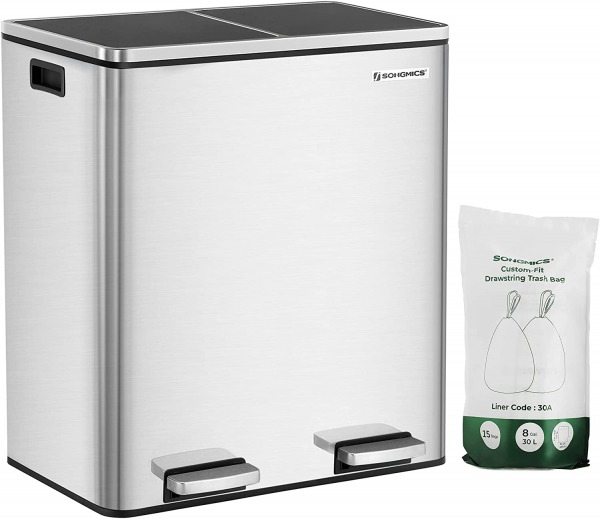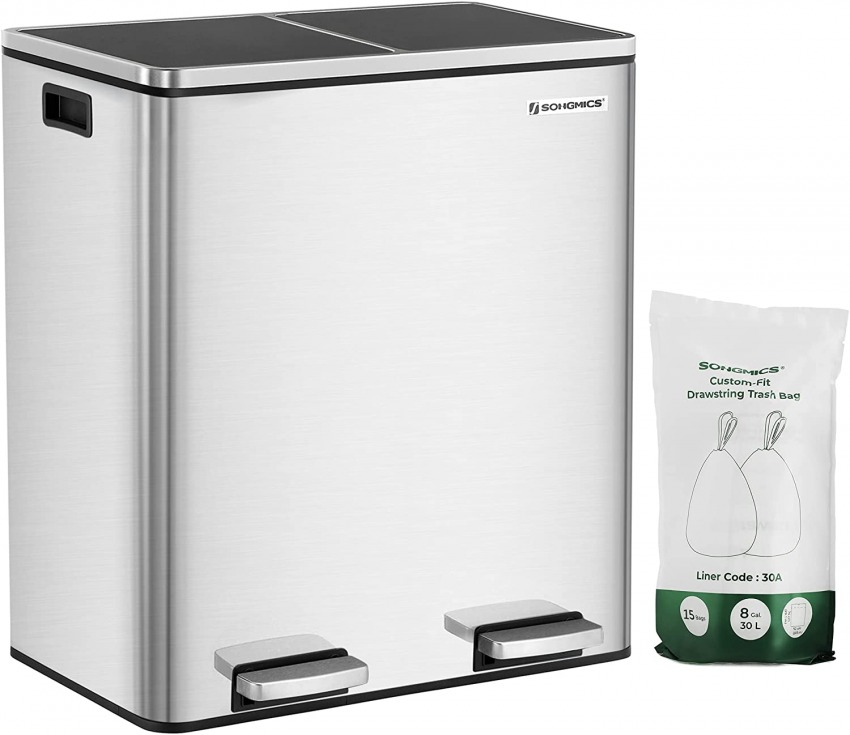 If you want a trash basket that doubles as a holder for recyclables, the SONGMICS dual section trash can is the best one you can buy. This 16-gallon garbage can has two compartments, one for recyclables and the other for garbage. Even if you spill the garbage accidentally in the bucket, the metal handles help you to conveniently lift them out. It is one of the most efficient solutions for all eco-friendly buyers who love to recycle in style. 
Additionally, the trash bin comes in a sleek yet rigid stainless steel design that makes it long-lasting. The soft-close lid eliminates loud slamming noises and ensures that you have a peaceful experience. It is also very practical as the two-compartment makes the sorting and disposing of trash and recyclables easy. Moreover, you get 15 trash bags that can be used to simply replace the garbage bag. With so many features, this waste bin is certainly a pricey one and comes at $122.33. However, I can assure you that it is one of the best stainless steel trash can you can get for your kitchen.
---
Home Zone Dual Compartment Trash Can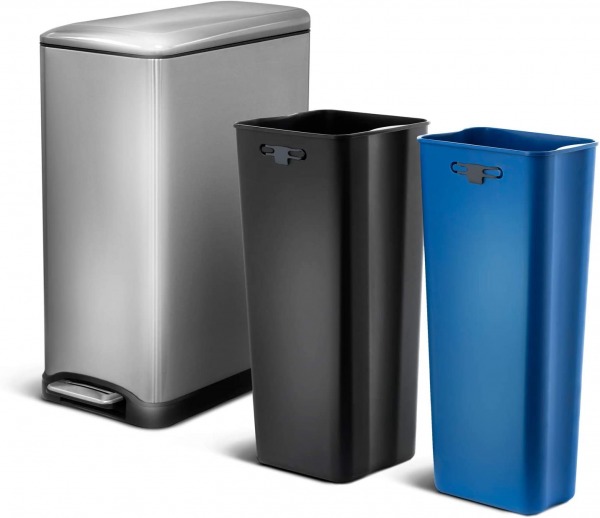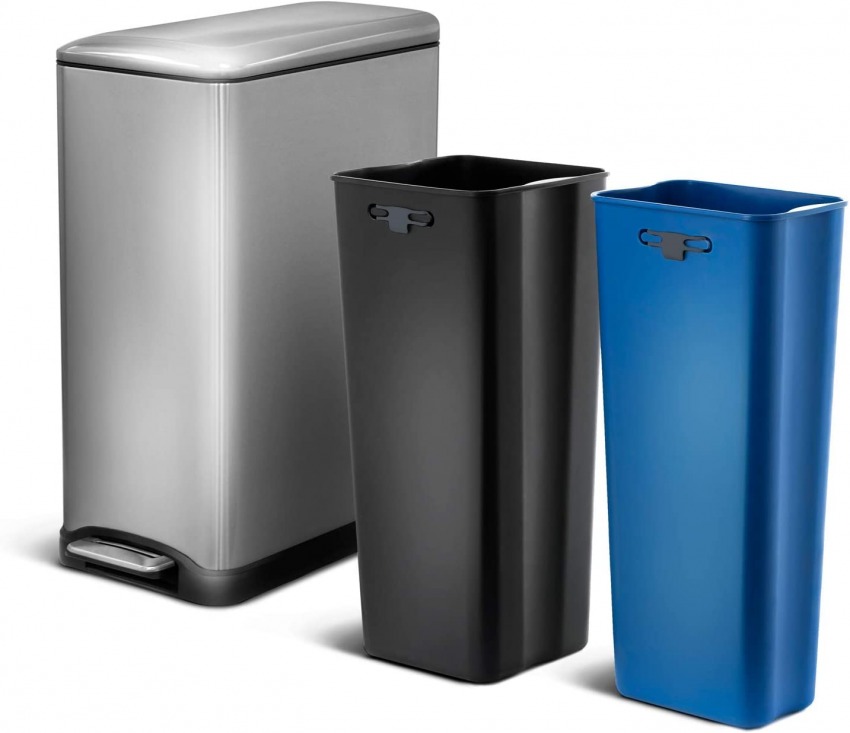 Looking for a slim rectangular style kitchen waste can? The Home Zone dual compartment waste can is an excellent choice. It can fit in tight spaces around the kitchen and also provide quick access when placed against the side of the kitchen island wall. The dual compartment makes it easier to sort your waste into recycling and garbage. The waste compartment can hold up to 8 gallons while the recyclable can hold around 5 gallons. 
Besides the slim build, it has a durable metal cantilever pedal that offers endurance and persistence. Talking about the liner, each liner in the bin includes a bag tuck band that secures the garbage bag in place and prevents the trash bag from falling through the liner. It is simple to use and the stainless steel quality makes it easy to clean. So what are you waiting for, grab the Home Zone dual compartment waste can at $109.87.
---
Curver Plastic Kitchen Trash Can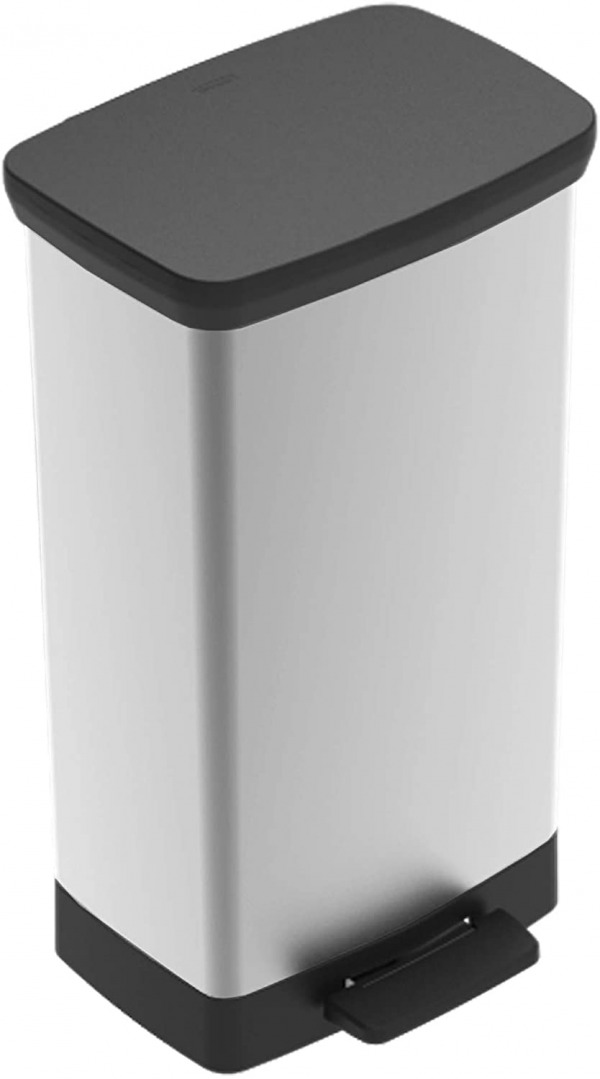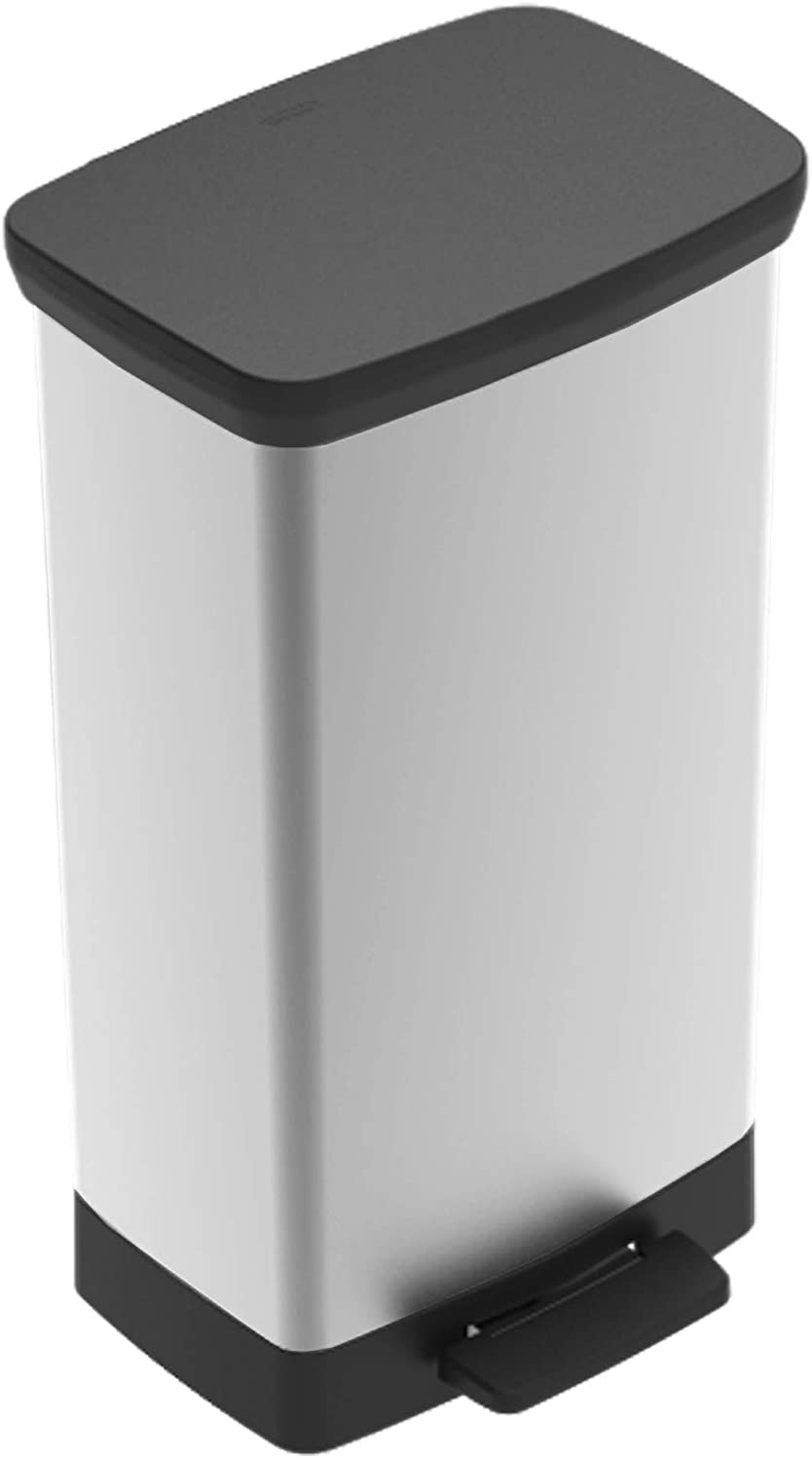 When it comes to listing the best kitchen waste can, a Curver plastic trash can is always included. It is a 13-gallon plastic garbage can with an impressive anti-rust stainless steel look. This stylistic design of the Curver trash bin fits in with almost any décor. The foot pedal and slow-close lid provide a quiet hands-free experience. 
Made in North America, it is one of the best Garbage bins for kitchen garbage disposal. However, you can also use it as a bathroom wastebasket for both recycling and garbage. As an added benefit for pet owners, the Curver trash bin is one of the best garbage cans for thwarting dogs or any other pet from opening it.
---
Simplehuman Touchless Motion Sensor Trash Can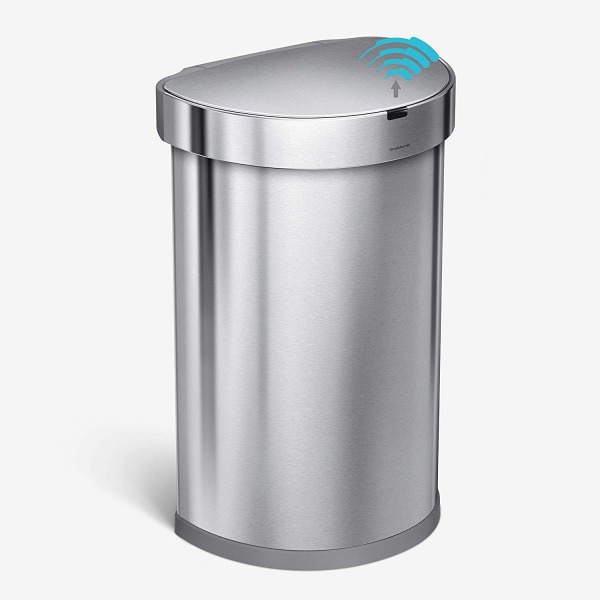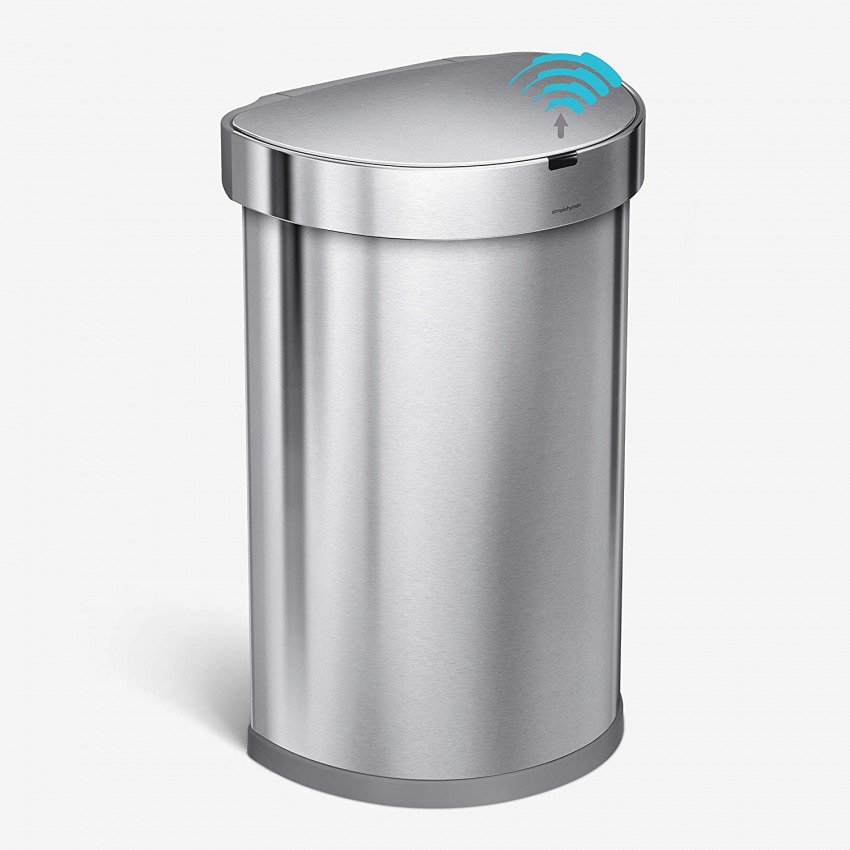 The Simplehuman touchless infrared motion sensor trash bin is an excellent alternative for those who don't like to use a step-on bin. The motion sensor is so powerful that it senses the areas above and in front of the bin and opens the lid automatically with just a wave of your hand. 
Besides, the stainless steel gives a cleaner and sleek look. The silver-ion coating resists fingerprints and the spread of germs while still maintaining the luster of the steel. This automatic waste bin works on 4 alkaline AA batteries that can last for at least one year. The precision motor and planetary gear system produce smooth and steady power which eliminates any type of noise while opening or closing the lid. Thus making it one of the best touchless Garbage cans on the list.
---
KOHLER Hands-free Step-on Kitchen Trash Can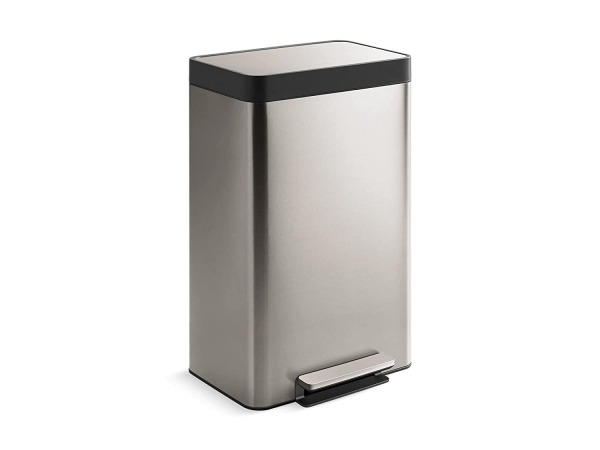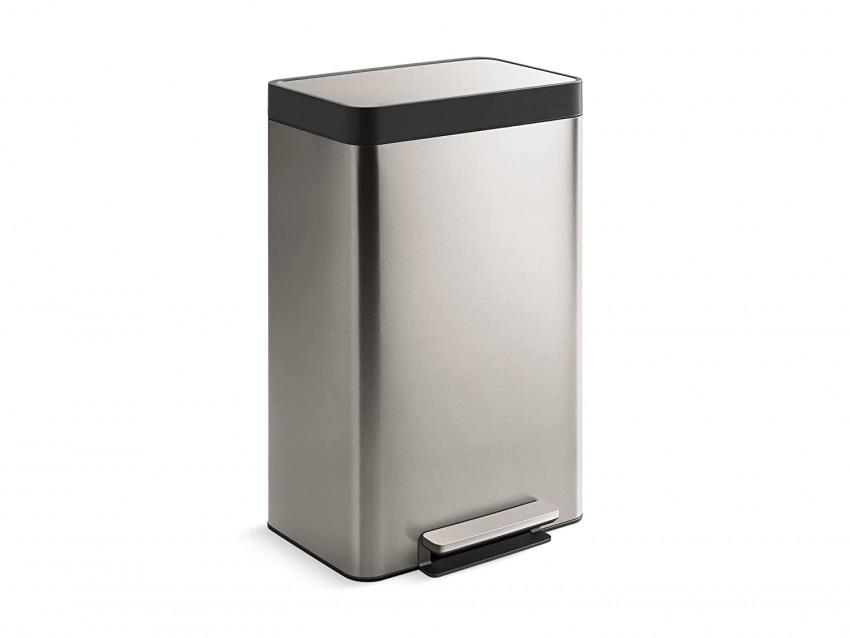 This sturdy and sleek KOHLER step-on trash bin look great in any home with its practical and modern design. It offers a sharp look, long-lasting construction, and high-quality stainless steel material that is fingerprint-proof. Moreover, the durable foot pedal and soft-close lid make trash disposal hands-free. 
Available in black/white/pure stainless steel variety, it is a perfect choice for those who have limited cabinet space and prefer to have their trash basket visible. Considering all the features, this product has the ability to outperform most of the other options in the market. Although it carries a higher than average price tag of $139.99, the convenience, organization, and impressive style that KOHLER Garbage bin offers compensate for the price.
---
Conclusion
Garbage bins are an integral part of your kitchen, study room, bathroom, and even your vehicle. This is why we have curated the above list of the best trash bins to help you find the perfect fit for your home. Whether you are looking for a stylish design or functionality, the above list will not disappoint you. All the products listed above are unique in their way and offer a long-lasting product. 
From the best touchless Garbage basket to excellent quality step-on waste cans, we have it all. You can explore and pick the best from the above list. So what's stopping you? Go through the list of the best trash cans that you can use in 2022 and get yourself an amazing deal!